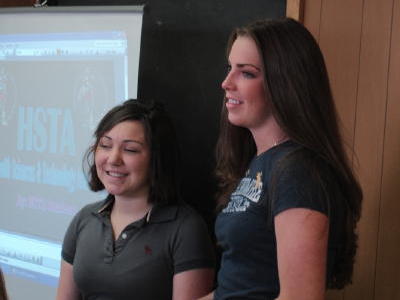 Sarah Moore (left) and Michaela Yoak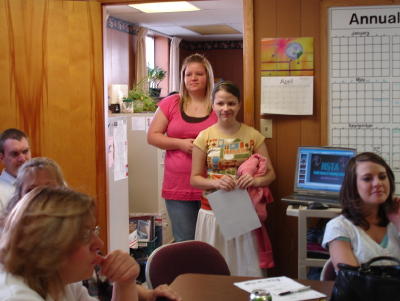 Kayla Miller (front) and Samantha Wilson
Submitted by Terri Lilly
Four Calhoun High School, Health Science Technology Academy (HSTA) members recently presented a power point on HSTA and its function to the Family Resource Network (FRN). Students making the presentation were, Sarah Moore, Michaela Yoak, Samantha Wilson and Kayla Miller.
HSTA is not available in all West Virginia counties. Calhoun and its residents are lucky to have such a program in their community. The students explained the requirements to be eligible for HSTA and what was expected of them.
Because HSTA provides tuition waivers to public colleges or universities in WV, the students are required to maintain certain criteria such as attending 70% of all HSTA meetings, doing a yearly science program, and 75 hours of community service.
Northern WV Rural Health Education Center helped the Calhoun HSTA purchase computers. In return for the computers the HSTA students developed power point presentations and agreed to present them in schools and communities to increase awareness of HSTA.
Many students have benefited from this program and there is a waiting list to join. The consortium that covers Calhoun County is NWVRHEC, Region 2. This region also covers Wood (Williamstown), Doddridge, Gilmer, Pleasants, Ritchie, Wirt, and Tyler counties.
RHEC takes health science students from different medical fields and places them in rural settings under a preceptor. The goal of the organization when bringing students into the rural areas is to retain health care professionals to practice in medically under-served areas such as the eight counties listed above.