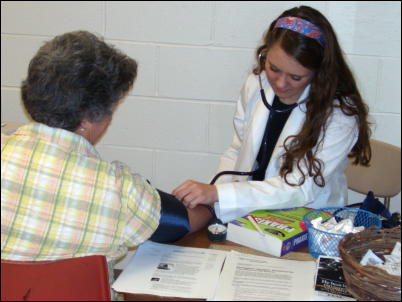 Submitted by Terri Lilly
Monica Offutt, a West Virginia University 3rd year medical student completing a clinical rotation with the Northern West Virginia Rural Health Education Center (NWVRHEC) has been working to make a difference in her home community assisting school nurse, Joyce Morgan.
Monica held a blood pressure clinic for the staff at Calhoun Middle-High School this week commemorating National Employee Health Day.
She also displayed informational models on various health issues.
Monica will be working with Joyce Morgan again on May 27 to do end of the year BMI checks on all students at Pleasant Hill Elementary in Mr. Golinsky's health classes.
She will be working again with her community the week of the Wood Festival doing a blood pressure clinic near the Calhoun County Courthouse on June 5 and June 6, from 10 a.m. until 2 p.m.
While completing her clinical rotation with the NWVRHEC, Monica has spent her clinical time with Dr. Hillary Miller, DO at Little Kanawha Family Medicine in Glenville. Monica has also requested to come back to Calhoun County in the spring of 2009 for a clinical rotation with Dr. Suresh Balasubramony at MHHS.
The goal of the NWVRHEC is to improve the distribution, quality, utilization and efficiency of health care personnel in the 23 counties served by the NWVRHEC.
RHEC takes health science students from different medical fields and places them in rural settings under a preceptor. The students are required to do rural rotations before being eligible to graduate.
RHEC also provides housing for students when necessary. Student housing is fully furnished with cable and internet provided.
The goal of the organization when bringing students into the rural areas is to retain health care professionals to practice in medically underserved areas such as the eight counties listed above.