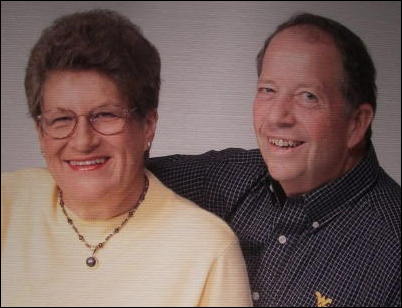 Sue and Randall Jones, 2008 Wood Festival Parade Marshals
Two well-known Calhoun residents have been selected to be the Parade Marshals for the 46th annual Wood Festival Parade.
Sixty-four-year-old Randall Jones grew up in Gilmer County where he played football and graduated from Glenville High School. He attended Glenville State College and graduated from West Virginia University with a BS Degree in Agronomy.
Jones began working for USDA Soil Conservation Service in Berkeley County and worked in Marion and Greenbrier Counties before moving to Calhoun County in 1971.
He completed his career as District Conservationist, NRCS (Natural Resources Conservation Service), working in Calhoun and Gilmer Counties.
He has been retired since January 2003. He was recognized by the USDA for Outstanding Work Performance in 2000.
While working in Calhoun County he assisted many landowners with farm plans, farm ponds and water troughs for livestock. As a hobby he has a backyard orchard consisting of many varieties of apples and is often called upon to answer horticulture related questions.
He served as a 4-H leader of the Mt. Zion Cardinals 4-H club for more than 20 years and was a 4-H Camp Counselor, teaching a camp favorite, Outdoor Living.
Randall was a 4-H Shooting Sports Instructor and was one of the state 4-H Shooting Sports Instructors in Shotgun. He is a 4-H All Star and is a member of the WV 4-H Hall of Fame.
Randall is a member of the Mt. Zion United Methodist Church where he has served as Sunday school teacher and Sunday School Superintendent.
Sixty-two-year-old Sue Jones graduated from Troy High School. She obtained a degree in Vocational Home Economics from Glenville State College and a Master's Degree from West Virginia University.
Sue was employed as a teacher in Lewisburg for two years before moving to Calhoun County to become an Extension Agent with WVU in 1971.
Her career with WVU Extension Service included working with 4-H youth, adults, and farmers. She directed 31 county 4-H camps, organized and instructed three 4-H Square Dance Teams, and organized and directed the first PRIDE (youth drug abuse) Team in West Virginia.
PRIDE Team youth traveled to 10 World PRIDE Drug Conventions and PRIDE members taught a national workshop in Cincinnati and served as PRIDE guides in Cincinnati and Philadelphia.
At least six 4-H club members earned National 4-H Awards during her tenure, one achieving the Presidential Award. Numerous other youth achieved success at State 4-H Round Up and various competitions.
Wood Festival related activities include 4-H project exhibits, 4-H and Extension Homemakers-CEOS booths, Quilt Shows, and entertainment by 4-H Square Dance Teams and the PRIDE Team.
She has been involved in successful programs, including 4-H Shooting Sports (State 4-H Shotgun Instructor and National Committee member), 4-H Youth Development, Energy Express, Master Gardeners, and Diabetes and Nutrition Education.
Sue is a 4-H All Star and a member of the WV 4-H Hall of Fame.
She was recognized by the USDA with a team award for elevating literacy. She also has a Distinguished Service Award presented by the National Association of Extension 4-H Agents for her work with youth development.
The last two years of her employment she was a part time Associate Director for the state 4-H program center and served a short time as State 4-H Program Leader. She retired in December 2002 as Extension Associate Professor Emeritus.
She is a member of the Mt. Zion United Methodist Church having served as Sunday School and Bible School teacher. Her hobbies include quilting, traveling, reading and gardening.
Randall and Sue Jones live at Mt. Zion with their dog Abigail, a miniature Schnauzer.
The couple have one daughter, Mrs. Shannon Johnson, an Assistant Prosecuting Attorney in Randolph County, who was recently named WV 2008 Young Lawyer of the Year. Their son-in-law, Jeremy Johnson is a teacher at Tygarts Valley High School.
"They have done so much for our community and for the Wood Festival," says the committee, whom asks the community to thank them both for all they have done.