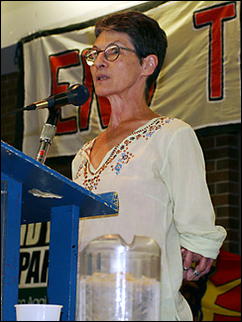 Naomi Binder Wall
A look at the conflict in Palestine and Israel will be topics of a special presentation Monday evening at the Holy Redeemer Catholic Church in Spencer, starting at 7 p.m.
The evening is hosted by Naomi Binder Wall, the forum will feature a short talk by Ms. Wall about the situation in Palestine-Israel, and then there will be a group discussion about the problems and possible solutions.
Ms. Wall is a community activist, teacher, and writer from Toronto, Ontario, Canada. She is a member of the Toronto based Jewish Women's Committee to End the Occupation, and has written and spoken extensively on Palestine-Israel.
She is a frequent visitor to West Virginia, as a guest of her sister, Jude Binder, Artistic Director of Heartwood in the Hills.