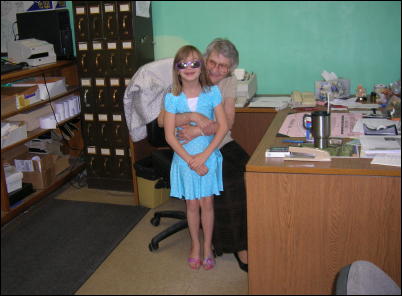 Anna Mae and Savannah Falls during Anna's
birthday celebration a few days ago
It was a sad day at the Calhoun courthouse yesterday. The ever-faithful Anna Mae Parsons didn't come to work. Her family discovered her lifeless body in bed.
County Clerk Richard Kirby said "Anna Mae was from a generation that had a work ethic that wouldn't quit."
The county's elected officials and employees gathered to shed tears and recall the steadfastness, willingness and friendliness of the 71-year-old woman.
"She was the rock that has made the County Clerk's Office a truly friendly place to do business. She knew and liked everyone that came through the door," Kirby said.
Anna Mae was a walking encyclopedia with the record books in the clerk's office. She knew where everything was and who was related to each other when doing title searches.
"Anna Mae's work was without error during the many years that she did the indexing for the office. She took great pride in doing a good job and providing excellent service to the public," said Kirby.
He said the clerk's office will never be the same.
"Truly, Anna Mae was a great servant to the citizens of Calhoun County, and she will be missed," Kirby concluded.
Anna Mae became a full time employee of the Calhoun County Clerk's Office in 1979, after having been employed part time for a few years.
She served as County Clerk at one point, appointed after the death of County Clerk Richard Stalnaker, serving in the position for a few months.
The only time she missed work was when she took a short leave to stay home with her dying husband.
Funeral arrangements will be completed at the Stump Funeral Home.