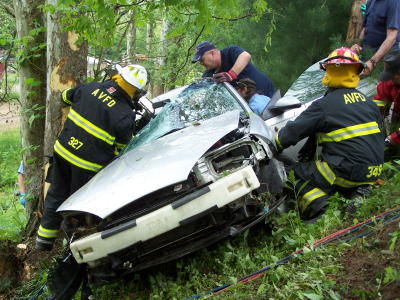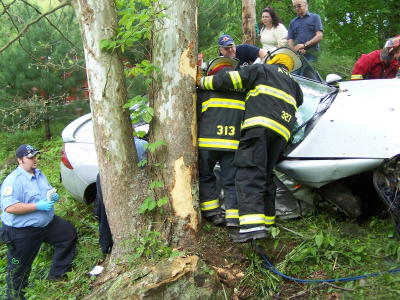 Arnoldsburg firemen and emergency workers
use Jaws of Life to extract 17-year-old youth
Seventeen-year-old Allen Carpenter of Arnoldsburg was seriously injured Wednesday evening when his car left Altizer Rd., went over an embankment and struck a tree.
Carpenter was trapped in the vehicle and had to be extracted by members of the Arnoldsburg VFD and Calhoun EMS, using the Jaws of Life.
A spokesperson late Wednesday night said Carpenter was "stable" in the intensive care unit.
The youth reportedly suffered head trauma, among other injuries.
Calhoun EMS transported Carpenter by land to Wallback, where he was transfered to a HealthNet chopper, then taken to Charleston Area Medical Center. The chopper was not immediately available.
Carpenter had been in a vehicle accident on Altizer Road Monday evening, involving himself and three other males.
Issac Bell, 18, reportedly the driver in Monday's accident, is a patient in CAMC with injuries to his arm and shoulder.
Roane County emergency services also responded for back-up following the 911 call at 4:41 p.m.
State Police are investigating both of the accidents.