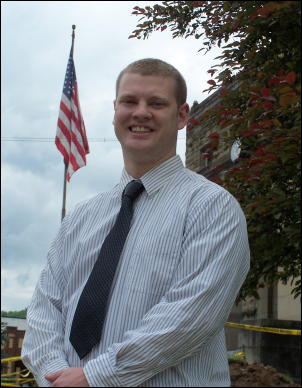 Curt Garretson returns to Calhoun
A Calhoun native is returning to live and work in the county.
Curt Garretson, his wife Kristin (Turner) and two-year-old son Turner will be living in Grantsville. Curt is starting his new job as the WVU Extension Agent on June 1.
"I am thankful to be able to return to my hometown to raise my family and I look forward to serving Calhoun County," he said.
Garretson is well-known to the Calhoun community for his civic and community efforts, even while he was a student at WVU, and earlier at Calhoun High School, graduating in 1999.
He earned a Bachelor's degree in Political Science with a focus in communications in the Fall of 2004, and then earned a masters degree in Elementary Education in the fall of 2007.
Garretson will complete an additional masters degree in Educational Leadership in December, 2008.
He is a member of the Grantsville Volunteer Fire Department, saying "The fire department here helps the community through lots of crisis's." He has frequently volunteered to help Relay for Life.
Garretson is the son of James L. and Sheila Garretson. His mother is Calhoun Circuit Clerk and his father is a long-time employee of Dominion Gas.
"You can reach me by coming to our office located in the basement of the courthouse or you can call 354-6332," he said.