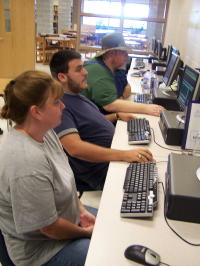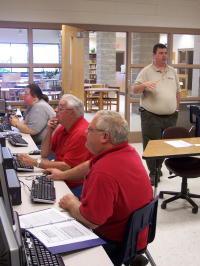 Calhoun dispatchers take CAD training, a system which
will help emergency services find the caller more quickly
Calhoun's 911 Director Gary Buchanan said "I'm grateful for 911 Advisory Board members who have been taking an active role," during a meeting held at Mt. Zion last night.
He said the board has a considerable number of volunteers that are concerned about the safety of the community.
The board learned that a long-time radio problem with a link between Minnie Hamilton Health System and the 911 Center has been solved. a new system using radio repeaters has improved communications.
Board chairman Tom Fox reviewed measures that have been taken to prepare the center against a lightning strike, a situation which happened last year that 'melted' most of the equipment.
Buchanan said "About everything has been done that offers protection, inside and outside the building, but nothing is 100%," reflecting on last year's strike that caused the center to go down and cost thousands of dollars in equipment replacement.
He said dispatchers will likely receive some upgraded training on the center's new CAD (Computer Aided Dispatch) which will be placed in operation when the E-911 addressing and mapping is completed and placed in the system.
CAD allows dispatchers to locate the origin of a call on a computer screen, improving the ability of emergency services to reach a scene.
The Advisory Board has been considering the use of road signs with the number and address of the property.
Buchanan said the names of county roads are nearly completed, saying one resident wants their road named "Druther Lane." When he asked why the name, they said "We'd druther not live here." He said the addressing project is currently on target.
Board members discussed areas of the county that have poor communication, and how the problem might be solved.
He said he and OES Director Cathy Wood are planning on having an information booth at the Wood Festival to answer questions the public might have.