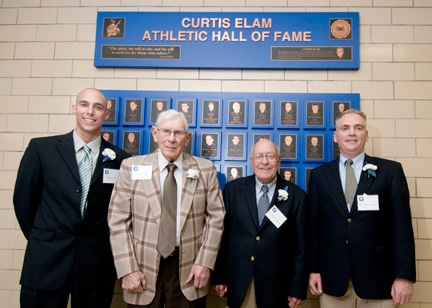 Recent inductees into the Glenville State College Curtis
Elam Athletic Hall of Fame, from left to right, Carlos
Ferralls, Bob Armstrong, Earl "Whitey" Adolfson, and Steve
Gandee. The fifth inductee was Russell Porterfield (deceased)
Story and Photos by Drew Moody
Memories were thick.
Palpable; hanging in the air.
The subdued excitement grew - at times overflowing - as family and old friends gathered in honor of the newest members of the Curtis Elam Athletic Hall of Fame.
With traits shrouded mysterious, legacy and legend far outdistance mere memories, or the passage of time.
A life well-lived notwithstanding, whatever the combination of simple / complex / or unknowable variables are, it's not uncommon for students and graduates alike to believe a coach, teammate, teacher, friend, or the 'community' of Glenville State College at large has some level of responsibility for profoundly changing their life for the better.
I can hear the cynics now.
Had I not heard so many of their stories maybe I'd look at it differently. But, you'd practically have to be embalmed not to feel the truth and sincerity of their words.
All of their stories could have happened "on an average Tuesday."
Not so long ago, another individual honored by Glenville State College candidly admitted he could never adequately express how critical his "Glenville family" was in creating the man he is today. Long past the poverty he overcame, he credits coaches and teammates for changing his life.
And just last year, a young man from outside Philadelphia, told of his 'shock' upon arriving in Glenville. Four years later, he left, graduating with honors and money to continue his education. He left a far different individual than when he arrived.
The 'late' John Lennon was quoted as expressing the idea that life is what happens while we're making other plans.
We may never understand why others have come to our aid, or why. The 'how or why' is far less important than acknowledging a history of good works or good deeds.
In the silence behind words, if a young person knows they won't have to 'go it alone,' even when the road gets rocky, that trust affords hope for better tomorrows. Over the decades Glenville State College has been a garden of hope for countless students.
Like those inductees honored before them, these men have changed many lives.
Coach Earl "Whitey" Adolfson
Starting with retired Glenville State College teacher, coach, and administrator, "Whitey" Adolfson won't mind John Lennon's name being invoked immediately prior to an acknowledgment of his honor.
With a smile and personality that keeps a laugh or smile as close as your next breath, combined with an even, dependable temperament, he was even kind to those young so-called hippies round-about Glenville some 40-years ago.
Maybe "Whitey" may have a beef about gasoline prices, or some other issue, but he's a man you won't likely hear speak negatively or complain.
While some inductees over the years may have long since seen memory fade, that's certainly not case here.
'Whitney' has a "tack-sharp" recall, and enough 'stories' to fill a sizeable book.
It is resolutely obvious he's a much beloved friend, mentor and former Glenville State College coach.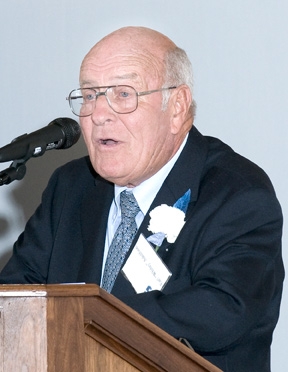 Coach "Whitey" Adolfson
Following graduation from Lewis County High School Whitey played football for a year at WVU, before transferring to the West Virginia Institute of Technology where he was 'starting' center and linebacker. Following graduation in 1954 he returned to Morgantown to secure a Master's Degree in physical education. After teaching and coaching in Lewis, Wirt, and Garrett County, MD, Glenville State College offered him a teaching and coaching position. The Adolfson family arrived in Glenville in 1966.
From that time until his retirement in 1993 he held several different posts at the school. He was defensive coordinator for several years, including during the 1973 Pioneer team's runner up finish in the NAIA National Championship. In addition, he revived the college's wrestling program, acting as head coach for eight years, from 1975-79 he was the Pioneer's head coach, and served as assistant athletic director five years.
Whitney and his wife, Jean (deceased) have three children; Tanya Barker, Machelle "Shelly" Stalnaker and Greg Adolfson. "Whitey" also has three grandchildren. Both daughters married former Glenville State College football players he coached.
Steve "Reno" Gandee
Attorney Steve Gandee, '82, lettered in football and baseball while a student at Glenville State College. He served as team captain of the Pioneer football team his senior year, as well as earning honorable mention All-WVIAC recognition.
Gandee shared a brief slide presentation with the audiece, including a photo of the letter he received from Glenville State College offering him an opportunity to play football for the Pioneers.
Glenville State College is such a tradition in the Gandee family they succeeded in making a well-worn path for him to follow on his educational journey north from Elkview in Kanawha County.
His football career is highlighted with a total of 698 yards gained. In addition, he scored 127 points, including eight touchdown receptions. At the time his 47-yard field goal kick set a school record.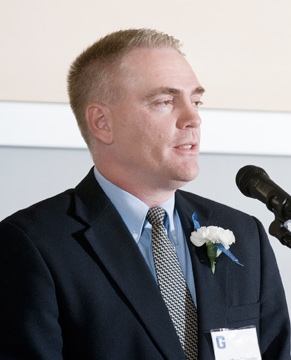 Steve Gandee
After completing a Master's in business administration at WVU he returned to GSC to teach and continue coaching.
Sports has been a constant companion throughout Gandee's life. Among the photos he shared included a makeshift mini-basketball hoop taped to an interior door (with his parents blessing) at his childhood home.
Recently, the Charleston Gazette prominently featured Gandee and his recently completed home remodeling project. The family now enjoys a regulation height, glass banking board and hoop in what was formerly the 'living room.'
For the past 24 seasons he has officiated high school basketball games. He's officiated 14 years for the WVIAC. In 2001 he was selected National Federation Officials Association West Virginia Boys Basketball Official of the Year.
Gandee received his law degree in 1989 and is actively involved throughout West Virginia as litigation department chair of firm of Robinson & McElwee, PLLC.
His wife, Tamra "Tammy" Burkhamer is a Gilmer County native and '83 GSC graduate. The couple have two children.
Carlos Ferralls
As a member of the GSC Pioneer football team this three-time All-American was nationally ranked in several areas, including first place rankings in receptions and total average yards gained per game.
The slender, soft-spoken Ferralls, is a Miami, Fla, native.
Carlos Ferralls
His senior year Ferralls earned GSC's top athletic recognition, the Montrose Award.
Ferralls career statistics include 268 receptions; gaining 4101 yards rushing, while scoring 46 touchdowns.
Upon his return to Florida he worked two years at a local YMCA. Following that he officially returned to the gridiron as a football coach at Miami Senior High School, where he also taught.
Currently he serves the Miami Dade County Public Schools as an administrative assistant. Ferrells recently earned his Master's degree, and hopes to become a principal; perhaps ultimately a superintendent. He and his wife reside in Coral Gables.
Bob Armstrong
Following his 1942 graduation, like tens-of-thousands young men and women across the U.S., he joined the military to aid the war effort.
Armstrong served overseas for 18-months in a 'counter-intelligence' unit.
A basketball standout, the Warren, Ohio, native was a member of perhaps the most well-known basketball team in the history of Glenville State College. Under the leadership of the legendary Nate Rohrbough, the Pioneer basketball team earned a national tournament birth in Kansas City two of his four years here.
One of those years they played in the championship final game; in their other appearance they finished that season ranked the number three team in the U.S. in their division.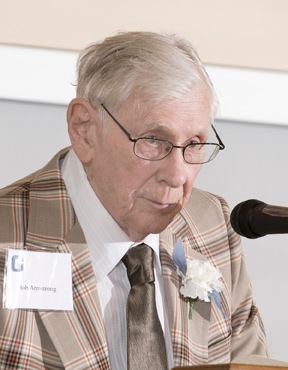 Bob Armstrong
Armstrong was co-captain during his junior and senior years. He was twice named to the all-conference team, and earned inclusion as a member of the all-tournament team as well.
More recently Armstrong was honored by being named to the 50th Anniversary All-time All Conference WVIAC Team.
Armstrong continued his education receiving a Master's degree from Kent State University. A former high school coach and teacher, he became a successful independent businessman, initially as an insurance consultant, later becoming involved with real estate until his 1998 retirement.
He and his wife of 65-years, Phyllis, have three daughters who all live near them in Florida.
Russell Porterfield
Russell Porterfield, '39, was a hightly successful basketball and football player while a student here. While his athletic prowess at GSC was stellar, his college accomplishments was just a sign of greatness to come for this young man.
While serving in the military during WWII his acts of combat valor earned him the Silver Star - the third highest award presented to any member of the armed forces.
Acts of heroism that earn a Silver Star, though not deserving of a Distinguished Service Cross or a Medal of Honor, must have been "performed with marked distinction," according to the Pentagon.
Well-known Silver Star recipients include: General George S. Patton, General Douglas MacArthur and current U.S. presidential candidate, Arizona senator and former P.O.W. during the Vietnam War, Senator John McCain.
Like fellow inductee Bob Armstrong, Porterfield played under Coach Nate Rohrbough. Porterfield, helped lead the Pioneer football team to its first WVIAC football title in 1937. The following year Porterfield earned All-Conference honors in football.
After graduation Porterfield accepted the head coaching position at Webster Springs High School amassing an astonishing 125-18 record.
Fate would prove his success was no fluke, following a relocation to FloridaHe led his high school's team to a conference championship, while accumulating a winning streak of 60-games.
He went on to become a high school principal, a position he held for many years. His wife, Mary Helen Smith (deceased), was a 1940 Glenville State College graduate. Their two sons, John and Steve, are GSC graduates as well, members of the classes of '69 and '75 respectively.