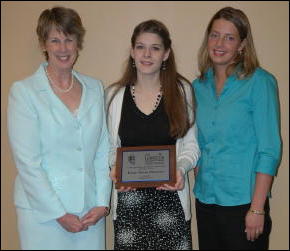 Asst. Professor of Education Dr. Marcia Bolton (L)
Outstanding Intern Kyre-Anna Minney (Center)
Kappa Delta Pi Past President Becky Humphreys (R)
Submitted by Bob Edwards
Public Relations Dept. Asst.
Glenville State College
Glenville, WV - The Glenville State College Education Department held exit day for thirty-eight student teachers on Friday, May 2nd. The morning began with a continental breakfast hosted by Kappa Delta Pi (KDP) for all interns, faculty, and staff in the Mollohan Campus Community Center.
Kappa Delta Pi, the Education Honor Society, presented the Spring 2008 Outstanding Intern Award to Kyre-Anna Minney of Gilmer County. Minney completed her student teaching in English at Gilmer County High School and in Elementary Education at Glenville Elementary School. She will be among the GSC graduates receiving degrees during the 134th Commencement this Saturday.
Honor Cords were also awarded to KDP members who maintained at least a 3.0 grade point average, were actively involved in the organization, and received a faculty recommendation.
Glenville State College Provost and Executive Vice President Dr. Kathy Butler was among the faculty who addressed and congratulated the interns. "I am very proud of all of you. You have chosen one of the best yet hardest jobs in the world. As teachers, you will spend your careers changing lives," said Butler.