Submitted by Annette Barnette
Public Relations & Marketing Director
Glenville State College, Glenville, WV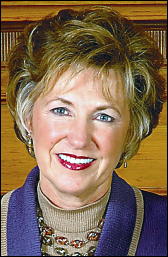 Glenville, WV - West Virginia First Lady Gayle Manchin (left) is scheduled to be the keynote speaker at this weekend's 134th Glenville State College Commencement.
The ceremony will take place on Saturday, May 10 at 10 a.m. in the Jesse R. Lilly, Jr. Gymnasium in GSC's Physical Education Building.
Nearly 200 students make up the Glenville State College Class of 2008 after completing their degree requirements in August 2007, December 2007, and May 2008.
The GSC graduates come from several counties throughout West Virginia as well as many other states including Ohio, Maryland, Texas, and Tennessee.
For more information about the event, visit www.glenville.edu and click on the commencement link.