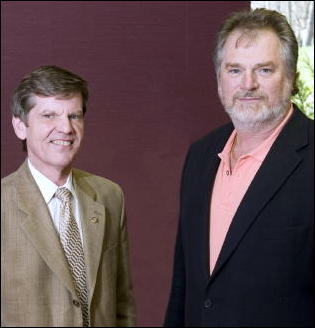 Glenville State College President Dr. Peter Barr (L)
and Smith Land Surveying owner, GSC Alum Greg Smith
Submitted by Annette Barnette
Public Relations & Marketing Director
Glenville State College
Glenville, WV - Smith Land Surveying owner Greg Smith has announced a quarter of a million dollar gift to the Glenville State College capital campaign. GSC's Transforming Lives Now capital campaign goal is ten million dollars. Smith says, "In the past, I have pledged a scholarship. Now, with the Transforming Lives Now capital campaign, I see further opportunities to help strengthen the college in the coming years. Glenville State is crucial not only to secure the futures of the students but also to securing the future of central West Virginia."
GSC President Dr. Peter Barr praises Smith's assuming a leadership role early in the campaign. "This donation accelerates Glenville State's ambition to become the best small public liberal arts college in the country. I am optimistic the pledges by Smith with other recent contributions including the $5 million Morris gift will become infectious among area residents, college alumni, and other friends of Glenville," says Barr.
When making the largest gift in the school's history in April, Ike Morris said the gift was a challenge to others to step up to the plate to help. Smith says, "I am already encouraging others to also respond to the challenge. There are many people out there who want to help Glenville State College, and I know they will help if they are asked," says Smith.
Smith says his donation will help support the academic, physical, and athletic needs of the college. He wants some of his gift to be earmarked for scholarships for students in the Land Resources Department. "Glenville State College and the surveying program changed my life. Now I want to help change its future so it can help other students attend college and pursue their dreams too. These students will bring new knowledge and energy to businesses like mine and the entire oil, gas, and forestry sector of West Virginia's economy," said Smith.
Glenville State College's Transforming Lives Now capital campaign is the largest fundraising effort in the school's history and continues through June 30, 2009. The public phase of the campaign will begin in the fall.