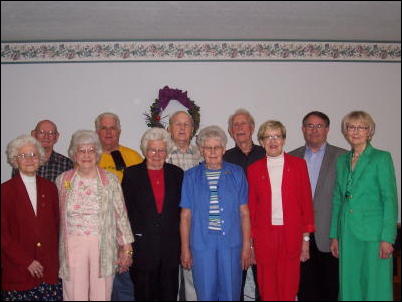 Attending teachers were (Front L-R) Bernice Stump, Glenna
Fleming, Grace Richards, Edna Robinson, Rosemary Ailes,
Willadene Poling, (Back L-R) Marvin Starcher, Ken Litzinger,
Paul Stalnaker, Don McCartney and Ron Blankenship
The 2nd Annual Retired Teacher's Luncheon was held at the Calhoun County Committee on Aging on Tuesday.
The event was in observance of National Teacher Day.
Willadene Poling, Calhoun County Retired School Employee's President, opened the luncheon and introduced Don McCartney.
Don reminisced about teaching in a one room school house, as well as teaching poetry classes. As he spoke on Emily Dickinson, the seniors were mesmerized.
The teachers and seniors enjoyed the event, followed by a The spaghetti lunch with cake for dessert.