Braxton Citizens' News
Braxton County's only law enforcement officer shot and killed in the line of duty will be remembered.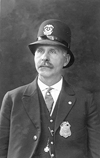 Though nearly a century has passed since his violent death, Gassaway Police Chief G. Ord Thompson (left) is not forgotten.
Thompson has been the subject of a research project being pursued by Herb Cogar of Gassaway. "My hope is to publish my work at some point so that the true story of the circumstances surrounding Ord Thompson's death will be known" said Cogar.
Chief Thompson was mortally wounded at about 9:00 a.m. on April 30, 1915 by William Holly Griffith of (Creston) Wirt County during the officer's attempt to arrest him on check forgery charges.
Daniel K. Comer, a young co-operator of a local boarding house who had been deputized by the officer to accompany him that morning, was also shot, but survived.
Unbeknownst to the policeman, Griffith had just a few weeks earlier shot and killed Wirt County Constable Jeff Goff who had similarly attempted to execute a warrant for his arrest.
Thompson and Comer were evacuated to Charleston by train, but Thompson died of his wounds later the same evening. He was buried in Maplewood Cemetery in Elkins, the final resting place of Henry Gassaway Davis and Steven B. Elkins.
Comer died in 1982.
Following Chief Thompson's death, a posse was organized by Braxton County Sheriff R.N. Rollyson, and the ensuing manhunt, unparalleled in state history, ended with Griffith's capture in Youngstown, Ohio some weeks later.
He was convicted of the murder of Ord Thompson by a Braxton County jury on July 19, 1915, and sentenced to life in prison.
Within a few years, Griffith escaped the penitentiary at Moundsville. Before being recaptured, he committed two additional murders for which he was also convicted.
Remarkably, in later years, Griffith's exploits were widely romanticized by the media. The book, Fool's Parade, written by the late Davis Grubb of Moundsville, was inspired in part by Griffith's prison life. A movie by the same title, starring Jimmy Stewart, was released in 1971.
Griffith died in 1971 at the age of 79, having spent fifty-six years of his life in prison.
"Sadly, though in his later years, Griffith was treated sympathetically, Ord Thompson and his valiant sacrifice was largely forgotten" said Cogar.
"To the extent possible, I hope to provide some balance to the story, and to perpetuate the memory of Ord Thompson and Dan Comer."
On April 28, 2008, Cogar presented a framed photograph of Gassaway Police Chief G. Ord Thompson to his current successor, Chief William Alderman. Ord Thompson's photograph will be prominently displayed in the Gassaway City Building.
"I am deeply grateful to Debbie Johnson of Wilsie, West Virginia, who provided an original of the Thompson photograph, probably the last one made of him" Cogar said.
"Debbie, it so happens, is a great niece of noted West Virginia photographer W.E. Bollinger, who in the early part of the twentieth century, maintained a studio in Gassaway, and captured some of the earliest images of the town" he said.