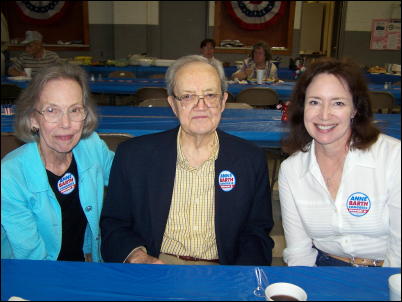 Barth family visit Calhoun, (L to R) Nancy McDonald Street,
Dr. Bill Street and Marty Spiker, at Meet the Candidates dinner
Anne McDonald Barth's family came to Calhoun over the weekend to give her candidacy a boost.
They attended the Meet the Candidates dinner at Arnoldsburg.
Barth is running for Congress, seeking the Democratic nomination, to then face Republican Shelly Moore Capito in the fall.
Nancy McDonald Street, Anne's mother, grew up in Calhoun, the daughter of the late Louise McDonald, a well-known Calhoun school teacher.
Louise McDonald was among the county's most loved teachers.
Ms. Street was accompanied by her husband, Anne's father, the Rev. Bill Street and Anne's sister, Marty Spiker.
"We're hopeful the people of the region will support Anne," she said.
Barth, a long-time aide to Sen. Robert Byrd, spent much of her childhood in the county, said her mother.
Nancy McDonald Street had two brothers who were cut down early in life, both graduates of Calhoun High.
James McDonald was a WVU graduate in 1960 with a degree in geology, but met a tragic fate as a Lt. in the Naval Air Service in 1964 when his plane crashed into the Atlantic, never to be recovered.
John McDonald also graduated from WVU in 1961 with an engineering degree, but died in 1973 of leukemia.
Another brother, Bob McDonald, graduated from Marshall University in 1965, to become an educator and librarian in New York.
Barth has told supporters she was raised for public service. She said the issues most important to West Virginians this year are the economy, the war in Iraq and education.
Supporters think Barth is most likely to unseat Capito, who has been in lock-step with President George Bush's war, invasion of personal privacy decisions and economic policies.
Barth has served on Sen. Byrd's staff for 21 years. She faces Richie Robb and Thornton Cooper in the primary.
"I know how to serve the people of the 2nd District because I see them and talk to them every day. I take their concerns personally because they are my concerns, too," she told a group of supporters.