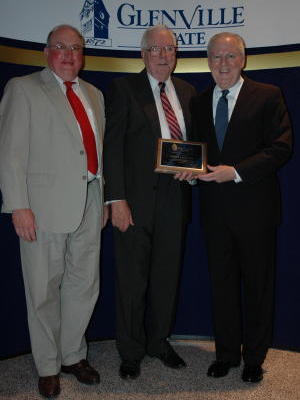 Tim Butcher, Dr. James A. Butcher, R. Terry Butcher
Submitted by Bob Edwards
Public Relations Dept. Asst.
Glenville State College
The Glenville State College Transforming Lives Now capital campaign has received a $100,000 private gift to honor Teresa Butcher Jarvis (Class of 1941) who was born in Cedarville, West Virginia. Her nearly 50-year teaching career spanned from Widen, West Virginia, to Dona Ana County, New Mexico. She also taught at Fairmont West High School in Marion County, Kasson High School in Barbour County, and Lordsburg High School in New Mexico. Her first principal was Clay County native Dr. Lloyd Elliott (Class of 1937), President Emeritus of The George Washington University. A colleague at Widen was Ms Phala Woods, who was also a GSC graduate. Both Elliott and Woods have been major benefactors to the College.
The Jarvis Scholarship will be funded with a $50,000 pledge from the Estate of Jarvis' late brother Robert J. Butcher (Class of 1941), and a matching pledge from her only surviving brother Dr. James A. Butcher (Class of 1953). Robert J. Butcher, who received the Posthumous Alumnus of the Year Award in 2008, taught at Burnsville and Spencer High Schools, and later worked for the West Virginia Department of Health and the State Department of Welfare. His reputation as an accomplished auctioneer was known statewide. James A. Butcher worked in the West Virginia public school system at Barton, Jumbo, Upper Glade, and Cowen in Webster County and at Petersburg in Grant County. He later held professorships at Shepherd College and The American University in Washington, DC. He retired as President of Shepherd College in 1989 after 21 years. His administration at Shepherd was marked by unparalleled growth in enrollment, the introduction of innovative curriculum and program offerings, and significant improvements in infrastructure. Jarvis had two other siblings and several other relatives who graduated from Glenville State. Her great-grandfather William Harrison Snider represented Gilmer County in the West Virginia House of Delegates when the College was established in 1872.
In acknowledging the gift, GSC President Peter B. Barr notes that the Last Will and Testament of Robert J. Butcher explains the generous gift: Teresa Butcher Jarvis "had a distinguished career in the field of education. Without the assistance which she received and the opportunities provided to her by Glenville State College, none of her outstanding professional accomplishments would have been possible. It is only fitting and proper that a scholarship in (her) honor and memory be established so that many other students may receive the same assistance and opportunity."
The $100,000 gift was announced at the 2008 GSC Alumni Banquet on Saturday, April 26th at the Mollohan Campus Community Center Ballroom.
R. Terry Butcher and Tim Butcher, sons of the late Robert J. Butcher along with his surviving brother Dr. James A. Butcher accepted the GSC Alumni Association's Posthumous Award on behalf of their father and brother.