Story and Photos by Drew Moody
For the Hur Herald

The Lady Pioneers softball team improved their conference record to 11-11 as they go into their final season games today (Monday) against Charleston.

The score of both games against D&E ended 1-0.

Pitcher Mandy Parkulo pitched 14 scoreless innings with a D&E runner failing to advance past second base in either of the games. Parkulo notched nine strikeouts in game two.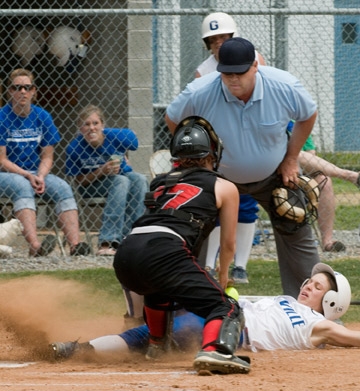 Karly Eskew slides into home, scoring in the first inning.
In the first game, short stop Karly Eskew scored the sole Lady Pioneer run in the bottom of the first inning.
She nailed a solid base hit with a line drive to mid-center field. Eskew then showed her speed with a quick steal to second base.
Kayla Shobe hit short to the outfield and Eskew headed for home plate.
She and the ball arrived about the same time, but D&E catcher bobbled the ball, allowing Eskew to score.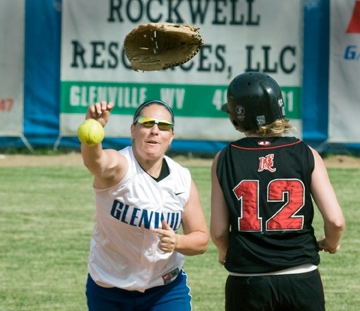 After tagging out the runner at second base, Leanne Harris looked for a double-play opportunity at first. As she made the throw, her glove slipped off her hand and hit the passing ball. She recovered the ball, preventing the first base runner from advancing further.
Responding to a comment that Eskew went the 'extra-mile' with her efforts Sunday, coach Rick Moore said, "You should have seen the three plays she made yesterday," referring to Saturday's Bluefield contests. "Karly is quite an athlete."
The Lady Pioneers played six home games, Friday through Sunday, splitting Friday and Saturday's outings against Shepherd and Bluefield.
Moore said Sunday he didn't know what happened to the two Lady Pioneer basketball players that were supposed to join the team, absent from Sunday's games, but are still listed on the college's website roster.
"My volleyball player is still out there doing a great job," referring to Erica Hale, recently recruited because due to the number of injuries the team has suffered.
"Pretty good for a team that's lost six starters," Moore added.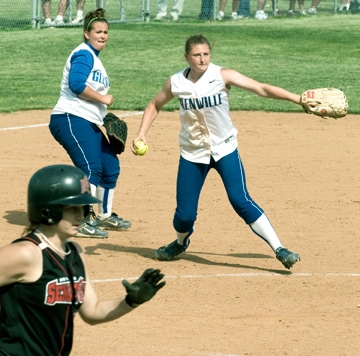 Mandy Parkulo makes an infield play throwing to first. She had 14 scoreless innings and nine strikeouts in the second game against D&E.
Perhaps combining the best qualities of a realist and dreamer, despite all the injuries suffered this year, he consistently maintained the girl's fate would be up to them.
Moore said it depended on whether they were willing to "step up" and face the new challenges. They were.
The Lady Pioneers softball team has certainly met and exceeded all challenges put on their plate this season.
SENIOR DAY - JESSICA GILCHRIST ACKNOWLEDGED
Lone senior, Jessica Gilchrist, was honored between games Sunday afternoon.
Gilchrist, from Buffalo, West Virginia, played softball and volleyball in high school. She was recruited by Glenville State College after her performance during the state high school volleyball tournaments her senior year.
She played volleyball two years at GSC and softball for four.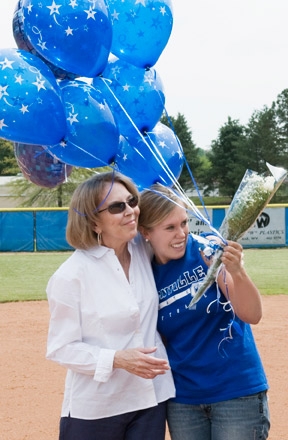 Jessica Gilchrist is congratulated by her mother, Susan
Howard, during senior day activities. Her father, Steve Gilchrist
was just out of the frame, standing to the right of the pair.
Gilchrist will graduate with honors in less than two weeks, maintaining an overall grade-point average of 3.5.
Gilchrist is the daughter of Susan Howard of Buffalo and Steve Gilchrist of Morgantown.
A PIONEER FIRST
Glenville native Evan Aldridge, has officially assumed the role of Glenville State College Pioneer mascot. He's a criminal justice major with goals of first becoming a West Virginia state policeman, then joining the U.S. Marshal Service.
Aldridge is a member of the TKE fraternity and he believes is the first 'Pioneer' to ever attend a GSC softball game in that official capacity. "I helped out with softball a lot before I was the Pioneer," Aldridge said.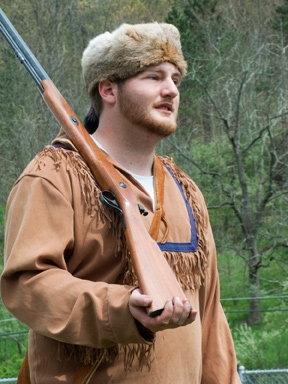 New GSC Pioneer, Evan Aldridge, made his official
debut at the Lady Pioneers softball game Sunday.
The new Pioneer also returned to the traditional pioneer garb of the mascot. The previous pioneer wore a costume which some critics thought did not reflect either the 'literal history' of early pioneers, or the college's long-standing tradition.
Aldridge is the son of the late Mark Aldridge and Tina Bryant. His stepfather is Kenny Bryant. The Bryant's live in Summersville, West Virginia.