Emergency workers give care moments after exreaction from auto
A Mt. Zion woman was injured Saturday morning when her car went out of control and clipped an electric pole, landing on its side in Phillips Run.
Emergency workers said Dora Mae Stull, in her 60s, lost vital signs temporally as she was being extracted from the vehicle.
Stull was taken to Minnie Hamilton Health Care System in Grantsville and was life-flighted to Charleston Area Medical Center.
CAMC reported Stull was still being evaluated at 7 p.m. today. Family members indicated she suffered a head concussion.
Calhoun EMS and the Grantsville VFD responded to the 10 a.m. accident, about three miles south of Grantsville on State Rt. 16.
Sgt. Jeff Skidmore of the State Police is investigating.
The same pole was clipped in an accident last summer.
Electricity in several parts of the county was off while the pole was being replaced.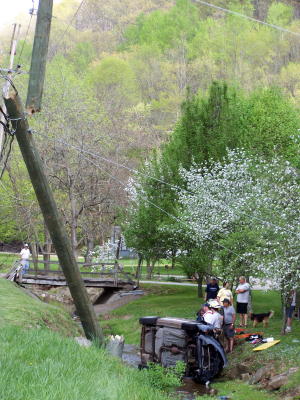 Car clips pole, breaking in two places, before auto lands in creek