By Bob Weaver

Ronnie Rush could spend up to 75 years in prison related to his part in the murders of Calhoun residents Mary Hicks and Ward Groves.

He was sentenced yesterday during proceedings at the Jackson County courthouse.

Judge Thomas Evans III denied a request by Rush's attorneys Teresa Monk and Rocky Holmes for another re-trial.

"These are extremely brutal and cruel murders against defenseless senior citizens killed execution style in their beds," Evans said.

The attorneys are appealing the case to the West Virginia Supreme Court asking for a second re-trial, claiming State Policeman Cpl. Doug Starcher tainted the jury by encountering four members of the jury at a lunch break during the trial.

Thursdays sentences are linked to two counts of voluntary manslaughter, 15 years each to run consecutively, and an armed robbery count for 35 years, also running consecutively.

Other counts are related to nighttime burglary and a conspiracy charge.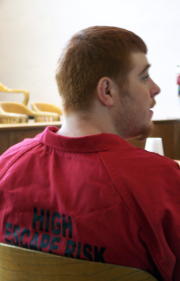 Rush (pictured left) could possibly get out of jail in less than 35 years, according to legal sources.
The court heard testimony from Lacrissa Rhodes, a juror in the last trial, saying a juror that was involved in a conversation with Cpl. Starcher was visibly upset in the jury room because his "friend" was dismissed from the jury because of their lunchtime encounters.
Rhodes said the juror was angry and red-faced over what he considered to be "minor conversations" with the officer.
Judge Evans dismissed two jurors who conversed with Trooper Starcher, most of the four indicated they spoke about sports and hunting, although one of the jurors told the court he and Starcher talked about mutual acquaintances who are state policemen.
Judge Evans said "It was a stupid thing for the trooper (Starcher) to do...without question," but he could not see where there was sufficient evidence to indicate tainting.
Prosecutor Shelly DeMarino said there was "no question that the trooper (Starcher) was inappropriate and lacked judgment," but stated there was no proof that damage was done to jury deliberations.
Rush's attorney Monk requested that Rush be sent to Anthony Center, with Rush speaking for himself that he wanted another chance at life, that prison life with (hardened) criminals would not help him.
Judge Evans denied the request.
Rose Settle of Orma, Mary Hick's daughter, spoke for the victims, saying "Ronnie does not accept responsibility for the crime."
"Ronnie gets to see his family. We have to go to the cemetery to see ours. We want him to stay where he is." she said.
The jury did indicate they did not believe Rush was the trigger man in the murders, while Judge Evans said the jury felt Rush was directly involved in the crime.
Monk said the appeal will be started immediately.
"We will get the appeal back before the Supreme Court before new justices are seated in January," she said, the members who ruled for a re-trial after State Police botched the case.