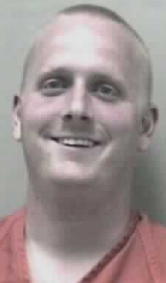 Grantsville Police are continuing to deal with a man who crawled on his hands and knees across Main Street Tuesday evening, saying "The Lord had led him on a journey, and He was teaching him a lesson in humility by making him crawl..."

Residents said he was carrying a bible around town.

Grantsville Chief Charles Stephens says the actual identity of the individual is Klark C. Ammerman, 26 (pictured left) of Powellton, West Virginia.

The man told police his name was Caleb Smith.

The original charge against Ammerman after he was found crawling in the street was dropped, and he returned to Grantsville last night, apparently to acquire his pick-up truck.

"The reason for him giving a false identity is still unknown," said Stephens, who has now filed a new charged related to causing a public official to file a fraudulent legal progress.

"Trooper Starcher advised me that...he may also be a suspect in several thefts and burglaries in the area," said Chief Stephens.

Stephens said Ammerman maintains "God told him to lie so he would go to jail."

He is now back in Central Regional Jail.

Police said earlier this week the man "appeared to be homeless," having no identification.