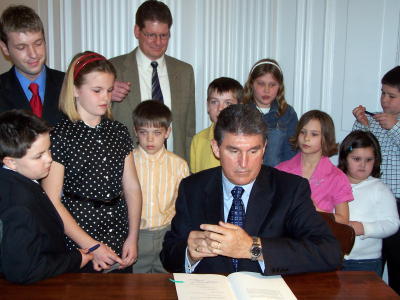 WV children and Challenge WV fellows meet with Gov.
Manchin for the signing of a bill that slows long bus rides
for state's youngest children (Hur Herald Photo)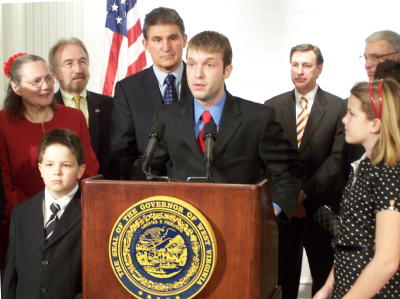 Challenge coordinator Thomas Ramey says "We continue the
fight for WV's children and communities" (Hur Herald Photo)
By Bob Weaver
Challenge WV fellows gathered in Charleston Thursday with Gov. Joe Manchin to sign a bill that will slow the placing of West Virginia children on long bus rides.
The bill passed the recent legislative session.
Thomas Ramey, coordinator of Challenge WV, said "This is a partial victory" in limiting long bus rides for some of the state's youngest children.
Ramey said thousands of WV kids as young as four are facing bus rides of an hour-and-one-half each way with the closure and consolidation of elementary schools.
"I don't know anyone reasonable, that would disagree with not busing kids over one hour," said Ramey. "It's not sensible and it's child abuse."
Ramey said the new busing restrictions will help communities in their fight against closing smaller schools in favor of consolidated facilities.
"This bill gives some power back to communities and local school boards," he said.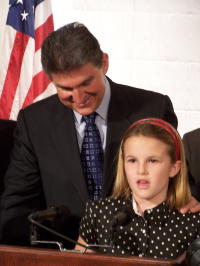 Jordanne Pritt, 10 (L) and Lucas Tanner, 9 (R) give Gov.
Manchin "A special thank you from West Virginia's school
kids" for supporting the busing bill (Hur Herald Photo)
Ramey said "We're also grateful to our Challenge WV volunteers and their grass roots efforts all over he state," also expressing his appreciation to the Governor and the state's legislators for their support.
"Currently the comprehensible educational facility plans call for 120 elementary school closures. This bill will halt most of those closures because those closures in many cases will put kids on the bus for over an hour. It shouldn't happen," Ramey said.
Ramey said the bill is not retroactive, and does nothing to help those children who are currently enduring long trips to and from school.
State school officials have ignored the research that children do better in smaller community-based schools, and that putting children on buses for that length of time creates fatigue that negatively affects the learning process.
School Building Authority head Dr. Mark Manchin says the authority no longer uses "economies of scale" to consolidate state schools and create long bus rides.
Manchin contends school consolidation is strictly a local school board decision.
"We continue the fight for WV's children and communities," Ramey concluded.