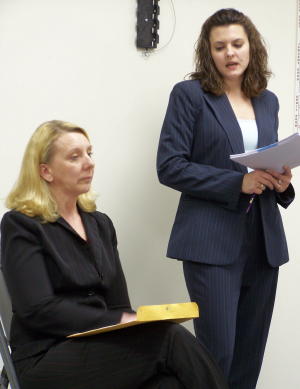 Calhoun Middle-High School principals Karen Kirby (L)
and Carla Taylor testify about Superintendent
Lynch's decision to make Taylor Attendance Director
By Bob Weaver
The Calhoun Board of Education declined to approve a transfer for CM-HS principal Carla Taylor which would have also made her the county's Attendance Director.
Taylor held an official employee hearing before the board and a crowded room of teachers and school employees, stating she was not a certified Attendance Director, calling witnesses to sustain her position.
The school's other assistant principal Susan Carper is retiring and will not be replaced, causing Taylor to assume her duties and responsibilities, splitting one principals position with attendance responsibilities.
The current attendance director is Bryan Sterns, who is principal of Arnoldsburg Elementary.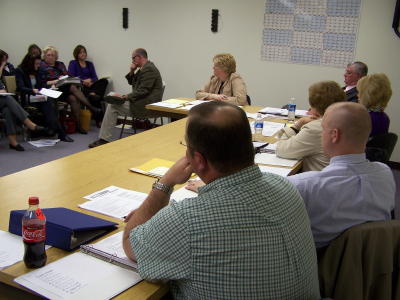 Current Attendance Director Bryan Sterns testifies
before board and packed room about his job duties
Sterns testified about his past and current role as Attendance Director, admitting he was unable to have day-to-day interaction with students who are drop-out risks because of his other duties.
Superintendent Lynch indicated she is wanting to make the change since most of the attendance problems are at CM-HS, with Sterns having to spend most of his time at Arnoldsburg.
Taylor said Lynch's decision to make the change was "arbitrary and capricious...I'm basically being forced into the job."
She said it is "unheard of to make such a transfer with no credentials," citing school policy.
Principal Karen Kirby, who testified in the hearing, said she believes the "decision (to make Taylor Attendance Director) is not in the best interest of the school and students."
Susan Carper, the other assistant principal whose job is being eliminated, gave a long list of her duties which will be shifted to Taylor, saying it would not be reasonable for Taylor to also take on the Attendance Director's job.
Kirby said "My opinion (regarding Taylor's new duties) was not readily asked. I didn't know about the decision until I got a memo."
There was a discussion about the continuous elimination of administrators at the school since it opened 10 years ago.
Kirby expressed concern about 21 drop-outs so far this year.
Board members asked questions of the vested parties regarding the matter, with board member Cynthia Dale saying "I think this is unrealistic."
Following the lengthy hearing, the board went into executive session, apparently to discuss the issue.
When the matter came to a vote, the change in Taylor's status died for lack of a motion.
More to follow...