Soy Dairy Starting Over At Square One
By David Hedges, Publisher
www.thetimesrecord.net
Like a phoenix rising from the ashes, the soy dairy in Spencer is making a comeback.
Spring Creek Natural Foods is no more after declaring bankruptcy, but now a new company, Phoenix Organics LLC, is keeping the Spring Creek tofu name alive.
Bill Quick, a Calhoun County resident who worked at Spring Creek from 1986 to 1993, is now managing the company. He and three employees make tofu each week, Sunday through Tuesday.
At its peak, Spring Creek had 14 full-time employees. "We're at about one-fourth of the volume we were," Quick said. "Hopefully we'll get back there."
Spring Creek Soy Dairy began in 1979 as a worker-owned cooperative, in a pink building on Main Street that once housed a coin-operated laundry. The name changed to Spring Creek Natural Foods Inc. in 1991 as the company began distributing other products, including organic produce. The items were picked up while trucks were making deliveries of Spring Creek products.
"We were a leading distributor of organic produce in the late '80s and into the '90s," Quick said. "That was before Kroger had organic carrots."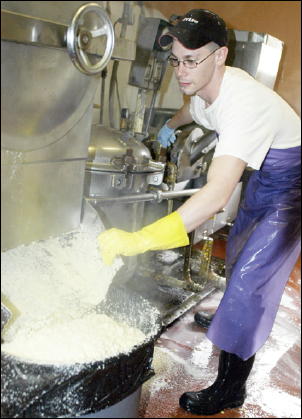 PHOENIX RISING - Cooking up some tofu, Jimmy McAllister
checks the extractor that separates soybean fiber from
soy milk at the Phoenix Organics soy dairy in Spencer.
Photo by David Hedges, Spencer Newspapers
The cooperative became a stock-held corporation in 1996 and business continued to be strong. In its heyday, Spring Creek was producing 15 different products, including smoked tofu, a meatless meatball, missing egg salad, soy burgers and three varieties of baked tofu.
A series of financial and management problems began in 2003, including a major equipment breakdown in late 2005 that halted production for five months.
The company was able to resume production, but things were never the same.
"There was no money coming in, but they still had bills to pay," Quick said. "It was just too deep of a hole to climb out of."
Spring Creek ended up declaring bankruptcy, while still managing to make some tofu.
New members joined the board of directors and looked for ways to return the business to what it was.
That process started with Chapter 11 bankruptcy, to allow for reorganization, but ended up in Chapter 7, which meant liquidation of the business.
After it became obvious there was no way to save the existing company, Quick and a longtime friend, Joe Koepple, who now lives in Florida, decided to purchase the assets and keep things going under a new company. They took over production in late 2006, although the process of forming Phoenix wasn't complete until late last year.
After he left the business the first time, Quick worked as a farmer, then went into the repair business as what he calls a "Mr. fix-it."
He credits "sheer stupidity" as the overwhelming factor that brought him back into tofu manufacturing.
"We have three employees, but I have eight taxing entities and six or seven regulatory authorities to respond to," Quick said. "And people wonder why more and more manufacturing is moving overseas."
The four-year decline of the business led to problems with finances, distribution and equipment, which had not been maintained.
"We've had to overcome all that and put it back together," Quick said.
One thing that has remained the same is the product name. The new label says Spring Creek tofu, produced by Phoenix Organics.
"The consumer has always been happy with the product," Quick said. "It's got great market recognition."
Quick said Spring Creek tofu is one of the few remaining traditional hand-made Nigari tofus. "About all tofu now is made by automated equipment," he said. "There's nobody standing over a cauldron curdling it. We use a hand-held paddle and curdle it. It tastes different."
While the product line is not yet back to what it was, in addition to tofu, Phoenix is offering soysage, a meatless breakfast patty made of soy, and eggless egg salad.
With wheat allergies a growing concern among consumers, Quick said he is experimenting with a wheat-free version of soysage.
And while some things have remained the same, others have not.
Phoenix is buying soybeans from the same supplier, an organic grower in Mr. Vernon, Ohio, that Spring Creek dealt with for years.
The refrigerated trucks that once bore the Spring Creek name are long gone, but Phoenix is working with a distributor that is putting Spring Creek tofu into locations, mostly health food stores, in seven states, from New Jersey to Kentucky, and Washington, D.C.
The only place to buy it locally is at the manufacturing site at 212-C East Main St., which is open Sundays through Tuesday from 8 to 8.
Wherever they find it, Quick is hoping customers find Spring Creek tofu as good as it ever was.
"It's still the best," he said.