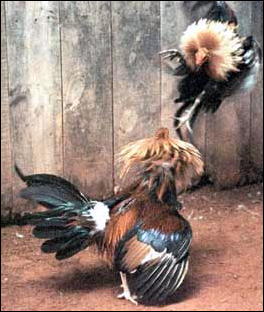 Cock fighting is alive in the 21st century, a "cultural sport" long practiced in the Appalachian mountains.
State Police received an anonymous tip Sunday morning, leading troopers with the Welch Detachment to a chicken fight in a remote McDowell County barn.
Police issued 46 misdemeanor citations for "attendance of an animal fight venture," and arrested one man who attempted to flee the area on foot.
State Police said several people left vehicles at the scene, all of which got towed.
Police received a tip by telephone that the chicken fight was taking place in a barn at Bartley No. 3 Hollow.
Police said there was a chicken ring in the middle of the barn surrounded by bleachers and several chicken pens.
West Virginia code says the penalty for a conviction on the charge of attending an animal fighting venture is a minimum fine of $100 and not more than $1,000.