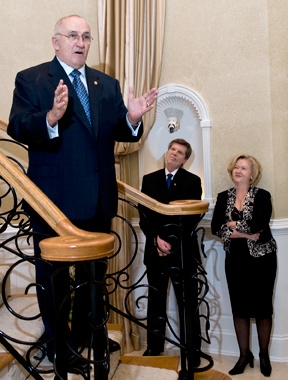 Ike Morris speaks to a small gathering Saturday
evening as Glenville State College president,
Dr. Peter B. Barr and Sue Morris listen intently.
By Drew Moody
Special to the Hur Herald
Ike and Sue Morris' generosity stunned a small audience at their Glenville home Saturday evening, as their $5-million pledge to Glenville State College was announced.
It marks the beginning of perhaps the largest capital campaign in the school's history.
As GSC president, Dr. Peter Barr, introduced Ike he told the audience he's never seen nor heard of such a level of commitment to a college or community as the Morris' have consistently demonstrated.
The primary focus of the fund drive is to secure funding for construction of a 5,000 seat convocation center. Architect drawings indicates the main level has a footprint of over 84,000 square feet. Other goals include establishing an endowment to insure the future of the Hidden Promise Scholars program, and funding several Fine Arts Center improvements.

Architect's drawing of proposed GSC Convocation Center
Morris explained simultaneous parallel efforts will attempt to establish a 24/7 health care facility in the Glenville area. The absence of a modern health care center is believed to be a significant barrier for future growth.
Ike spoke passionately about the bright future he sees for Glenville State College and central West Virginia.
"We've Got the Real Deal Here" - Ike Morris
After hearing a few of Dr. Barr's presentations in Charleston, Ike admitted, "Really and truly...I've come out of there and had to put one of my socks on. He really knocks your socks off."
Morris' humor is contagious as laughter spread through the room. Those listening knew Ike isn't one to pass out such compliments lightly.
Saying he'd like to see GSC break ground on the convocation complex within two years or so, Morris told his audience, "Everybody's got ideas - what we really need now is money."
     Ike L. Morris         "Now John....I don't expect you to pay for it all," perhaps teasing local dentist, John Westfall.
The Morris' Long History of Community Involvement
The Morris family has, for many years, contributed substantially to Glenville State College, as well as being one of the county's historically largest employers.
In addition, the family has encouraged and supported a diversity of local business growth.
Business headquarters, on any typical Monday through Friday, is Waco Oil and Gas in Glenville.
In 2006 Glenville's NAPA Auto Parts owner became convinced a relocation would be good for local customers as well as the profit margin. No suitable buildings were available.
NAPA's owner met with Ike and Waco subsequently agreed to build a new facility to house the business in the Foodland Plaza area.
Ike facilitated and secured, with the help of local investors, the necessary agreements to build and operate the Best Western Glenville Inn and restaurant located on Route 5 east between Glenville and Sand Fork.
Morris was one of the principle leaders of local efforts resulting in a new federal prison being sited near Glenville.
He envisions a user-friendly and practical facility. But also one that will continue to be impressive long into the future. "I want people to come here 10 years from now and say WOW," Morris said.
Sue Morris Spent Her Career Teaching
Sue Morris, a life-long educator, is a retired Gilmer County school teacher.
A long-time acquaintance of the Morris' said particularly during her years teaching Sue was involved in an ongoing variety of community service projects. Most were unaware of those efforts because she preferred working behind the scenes so as to not draw attention to herself.
Were it not for Ike and Sue's support, spanning many years, some of Glenville State College's sports programs would very likely be financially unsustainable.
Their funding, equipment and labor donations made GSC's new softball field a reality.
Likewise, years earlier, they provided needed monies creating a multi-use stadium and track. Home of Glenville State College's Pioneer football team, I.L. Morris Stadium hosts a variety of events throughout the year.
In October 2006, construction began on The Sue Morris Sports Complex, located on Route 33&119 east, near the Calhoun Banks facility. It features two 'state of the art' softball fields, as well as a baseball diamond. Several family friendly components there include: playground equipment, picnic shelters, and a walking trail.
The facility begins its second year of operation and hopes to expand facility usage in the coming year. Contractors and construction workers familiar with similar facilities statewide said the Sue Morris Complex has no rivals in the Mountain State.
College is Growing as New Partnerships Develop
• The long-awaited completion of a top-to-bottom science building renovation was completed in January. The $10-million effort now houses what is believed to be one of the most advanced undergraduate facilities in West Virginia.
• A multi-million dollar NASA grant is in its second year, providing training and sophisticated equipment to high school teachers and students who come to Glenville State College for all-expense paid training. Part of the grant effort provided the college with a million dollar equipment budget.
• Since the Barr's arrived in Glenville, almost two years ago, enrollment continues to increase. Law-enforcement related training has experienced a significant expansion. With Congressman Alan B. Mollohan's help funding was secured to establish a high-tech crime scene house near the campus.
• The college has established a partnership with K-12 schools in a 13-county area. The goal is to encourage a team effort focusing on student success during high school as well as college.
• A successful mentoring program pairing elementary students with future teachers is now in its second year.
• Glenville State College established a Hidden Promise Scholars Program, awarding the first 13 high school seniors a $1,000 renewable scholarship. Sixty-five new seniors selected as Hidden Promise Scholars next year.
• The bluegrass music program, headed by Buddy Griffin, recently became one of perhaps only two schools in the U.S. offering 4-year BA degrees with a bluegrass music specialization.
• Area business leaders had all but given up on attracting new developers willing to build model homes. Dr. Barr presented a plan pooling local investors who contributed $25,000 each to underwrite initial construction. Ike Morris, Bob Jones and Mack Worl donated the land, and construction on the first home will begin sometime in April.
Community Service - Assisting Organizations
Upon arriving in Glenville, two of Barr's immediate goals included encouraging a spirit of community service whenever possible. The second mandate was for GSC to become an active partner in both local and area organizations. Both efforts have spun off a variety of programs.
Two very recent examples include GSC hosting a Hospice Cinderella Project, which offered gently worn formal wear to young women for $20 or less. Ongoing "Glenville Goes Green," discussions between state agencies, non-profit agencies and Glenville Student Action is exploring a variety of ecologically-friendly goals.
"This is my home," Barr said, "It's a place we can help make a difference."
Barr sees West Virginia youth as often quiet and undiscovered treasures. In addition to being as "intelligent" as their peers across the nation, Barr believes the traditional "sense of family" here and strong work ethic gives them an advantage.
"We just need to help them realize what they can be."
Glenville State College's Board of Governors, Dr. Barr, and a core leadership group have been planning the capital fund drive for more than a year.
Additional details will be forthcoming and featured in future news releases.
For more information or to contribute to GSC's capital fund drive contact Denny Pounds at 304-462-7361.