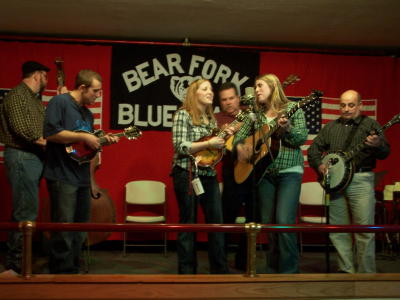 The Metheneys from Clarksburg put on a show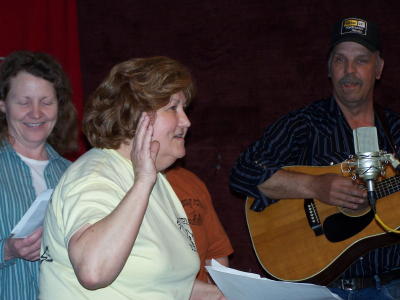 Old-time radio jingles by kitchen crew, led by
Patty Cottrell (front) and MC Rick Falls (right)
By Bob Weaver
Goldenseal magazine has a feature article about the Bear Fork Trading Post in the Spring 2008 edition.
The story is about Melvin and Patty Cottrell fulfilling a life-long dream to have a local venue to where people can enjoy country, bluegrass and gospel music, a project that further encourages the mountain music tradition.
Last Saturday night, beyond offering "The Metheneys" from Clarksburg and some great bluegrass music, the evening had those little extras like 8-year-old Sand Fork youth Preston Allison displaying his tap-dancing and clogging skills.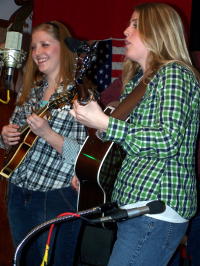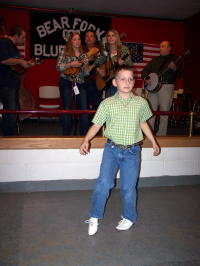 Metheney band members play the tunes while
8-year-old Sand Fork youth dances to the beat
MC Rick Falls brings the venue together for an evening of special entertainment.
The Bear Fork Trading Post kitchen crew actually did some catchy jingles for sponsors who have paid for advertising space on the building's walls, a segment that would have been great for a radio broadcast.
The Post is located on Rt. 33/119, 16 miles west of Glenville at Stumptown, West Virginia. Admission is $6 per person. Children under 12 are admitted free with and under the control of paid adult.
Doors open at 6 p.m. Performances begin at 7 p.m. No alcoholic beverages are permitted on the premises.
Jam Sessions are held every Friday evening from 5-10 p.m. with free admission.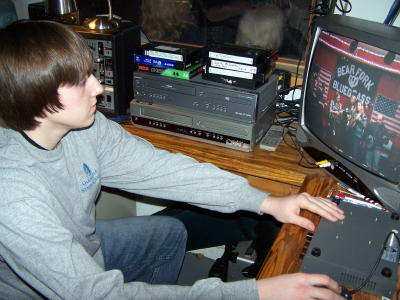 Ethan Collins at the control board,
recording and taping the evening's events