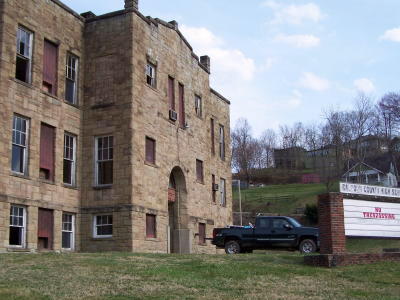 New owners of old Calhoun High have been in
Grantsville making some repairs to the roof
By Bob Weaver
The old Calhoun County High School has been sold for a fourth time since it was closed ten years ago.
It has now been purchased by a Virginia couple, George and Sherry Kusner, who have indicated they will be working on the old stone structure to make it into their dwelling, saying they might use it for a bed and breakfast and a photography studio.
The Kusner's have indicated they intend to demolish the old gym, cafeteria and shop building annexes, all of which are in major disrepair.
The real estate deal was completed this week for $175,000 through Farmhouse Realty and Homestead Realty.
Dr. Charles Folashade of Salisbury, Maryland, purchased the school property in July, 2005 on eBay for $160,000, saying renovations of the building would begin within weeks.
Folashade also purchased the abandoned Brookfield High School on eBay in Linn County, Missouri, where residents complained about the continued deterioration of the structure.
Folashade told then, Grantsville town councilman Gaylen Duskey he hoped to have crews on hand "within the next few days" to start work on the roof of the old high school.
"We need to stop the deterioration," he said, and then "begin the restoration," saying he was wanting to use the building for a lodge or a nursing school.
Since Folashade's purchase, the buildings have continued to deteriorate, with no improvements made.
The complex has had two other owners, Shirley Fitzwater made the initial purchase at a Board of Education auction, then sold it to the Hagan Richards family.
Fitzwater, the Calhoun Commission and a number of community people made a number of efforts to create jobs using the complex, with no success.
Richards attempted to put a funding package together to develop the building for housing, but gave-up after lacking at least $1,000,000 for the project.