By Drew Moody
for the Hur Herald

Rosanna Springston's macro-photograph of a tiny crab spider captured Best of Show honors at Glenville State College's 1st Annual Student Art Show.

The Craigsville woman is a natural resource management major with a minor in art.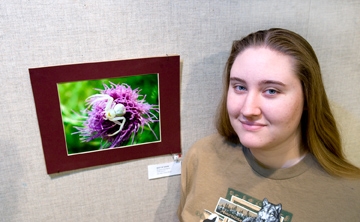 Roseanna Springston's close-up of a tiny
crab spider captured Best of Show honors.
Photo by Drew Moody
Springston's mother, also a photographer, introduced her to photography at a young age. Listening to Springston, it sounded as though cameras and photography has always been a part of her life.
She photographed the tiny creature, measuring perhaps only one-half inch across, as it sat perched on a thistle waiting for it's next meal.
Also known as a "flower spider" they don't trap prey in a web like many of their cousins. They are regarded as ambush predators. Some varieties are venomous, but not considered dangerous to humans, according to the University of Kentucky's Cooperative Extension Service.
Springston's effort topped 33 other entries in the juried competition. A Natural Resources major, she intends to put the $100 prize toward purchasing a new digital camera.
The student exhibit will be on display in the Fine Arts Center gallery through April 11.
Glenville State College art professor Liza Brenner suggested the event to colleges.
The entries encompassed a variety of media including: oil painting, pastels, pen & ink, ceramics, photographs and collages.
Other winners included Ben Dierolf who took first place and the $80 first prize, Dianna Dyer won second and $60 for her effort, Donni Finely captured third place and $40, and honorable mention and a $20 gift certificate went to Misty DeLong.
Judge for the show was West Virginia Wesleyan art professor Sara Shawger.
Prize money was donated by State Farm Insurance of Glenville, The Towne Bookstore, Common Place Restaurant, GSC Bluegrass Band and the GSC Fine Arts Department.
The gallery is open Monday through Friday 10-2 p.m. and one hour prior to any evening event at the fine arts center. Addition hours may be arranged by appointment by calling the GSC Fine Arts Center at 462-7361.