All Tournament Selections (L-R) Savannah Church, All
Conference, All Tournament; Kenzie Laughlin, All Tournament
Hustle Award; Amber Wilford, All Conference, All Tournament
Submitted by Danny Bunch
After upsetting #1 seed Summersville the previous night, CMS Girls traveled back to Braxton County Armory Saturday afternoon to face Braxton in the CWVAC Championship Tournament.
CMS girls started out the game hot and lead Braxton by 3 at the half.
The second half was a different story. Red Devils went cold and Braxton outscored CMS 27-10 and defeated CMS by a score of 46-32.
Scoring for CMS was Amber Wilford with 20, Savannah Church 5, Tangie Cain 4, Kenzie Laughlin 2, and Rochelle Gerwig 1.
CMS finished a fine season at 10-7 and finished 2nd in the CWVAC Tournament.
Receiving All Conference recognition were Savannah Church and Amber Wilford.
All Tournament awards also went to Savannah Church and Amber Wilford.
Kenzie Laughlin received the CWVAC Tournament's Hustle Award, which was awarded to only one player out of the tournament.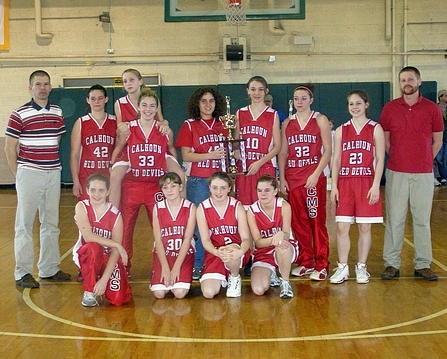 CWVAC Runners-Up (L-R) Kneeling, Hannah Burris, Carly Craddock, Shayla Arnold, Brittany Norman; Standing, Coach Danny Bunch, Rochelle Gerwig, Tangie Cain (in back), Kenzie Laughlin, Britteny Miller, Amber Wilford, Savannah Church, Chelsea Heery, scorekeeper Zac Hupp