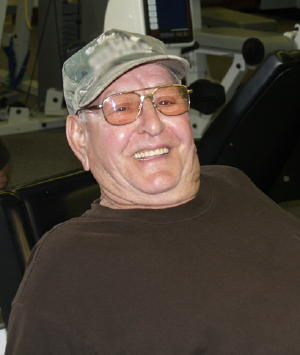 Holly "Junior" Greathouse
To: Minnie Hamilton Health System: Doctors, Nurses, Physical Therapists, Lab, Cooks, Housekeepers and all other employees.
From: Holly Greathouse
In April, 2007, I was transferred from St. Joseph's Hospital, after surgery with a broken bone in my leg (above the knee).
I didn't realize that I would be at Minnie Hamilton Health System for three months.
By being there for three months, along with the care they gave me I saw first hand others being cared for as they came and went.
Dr. Hande took great care of me as did the other doctors. They took care of any problem that came up and Dr. Hande became a great friend as well as being a wonderful doctor.
The nursing staff was the greatest as well, they took such wonderful care of me, each and everyone was so caring and loving.
They each listened to me and my problems which made me feel a part of their family.
The Physical Therapy department is the best. They are so caring and I got such wonderful car from them, too. They are "number one" in by book. Thank you girls; for being so good and caring.
As for the dietary department, the cooks made sure I didn't go hungry. The food was great, thank you as well.
The housekeepers were so kind and took good care of my room and bed; thank you too.
While I was there, those three months, our family went through a lot. We lost our son Holly in May. He was a wonderful son, husband, brother, uncle and a friend to all in the surrounding area as well in Grantsville.
My wife broke her arm also in May, my daughter-in-law, Holly's widow, broke her foot. Our son David who lives in Ohio, was in an accident and broke his arm and up to now has had to have six different surgeries. And lastly, our grandson, Holly's son, smashed his hand.
The doctors and nurses comforted us, stood beside us as a family. Something I cherish and will never forget. Please don't worry if you have to spent time at Minnie Hamilton, you will be in the best of hands.
Our family says "Thank You" to everyone at Minnie Hamilton. May God bless you.
Signed,
Junior and Waneda Greathouse, Vicky and Richard Greathouse and family, Steve, Mary Newlon and family, David and Joyce Greathouse and family