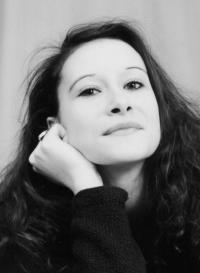 It is a July night in 1920, the night before Mary's wedding, and Mary is dreaming of how she met Charlie, a young Canadian farm boy just before the guns of WWI tore them apart.

Mary's dream on that warm July night comprises the entire story of the lyrical two actor, three character play, Mary's Wedding, now playing at the Ensemble Theater of Cincinnati.

Morgan Grahame, a Calhoun native and 2001 graduate of Calhoun High School appears as Mary, a young upper-class English girl who has just emigrated with her parents to the prairie lands of Western Canada.

Grahame is on stage the entire length of the play, where, clad only in long white nightgown, she plays both the young English girl, then without benefit of props or costume changes, with just a change of accent and posture she transforms into Charlie's battlefield commander.

City Beat, a Cincinnati entertainment publication hails her performance as "evocative" ..."bravura work".

The Cincinnati Enquirer calls her attractive and appealing, in a performance filled with conviction. "Grahame lights up from within as young, romantic and madly emotional Mary" says Enquirer Theatre critic Jackie DeMaline.

Grahame, a member of Actor's Equity Association, the Union of Professional Actors, appeared earlier this year at the Ensemble Theatre as Loretta in the dark comedy "More Fun Than Bowling".

Since graduating from Davis & Elkins with a degree in Theatre Arts in 2005, she has been seen in such shows as Moonlight and Magnolias, Big River and Ambition Bird all at the Human Race Theatre in Dayton, as Clear Water in the outdoor drama Blue Jacket (2005-2006), and was the Production Stage Manager for First Frontier's Legend of Sleepy Hollow.

She was the assistant choreographer for Big River, and the choreographer for Harold and Maude, both with the Human Race Theatre.

Grahame is longtime student of Jude Binder at Heartwood in the Hills where she studied acting and ballet and considers Binder her professional mentor.

Grahame is the daughter of Neil and Susan Grahame of Minnora.