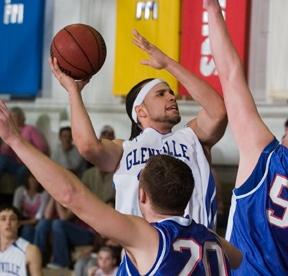 Glenville's Mykail Vibbert goes up for two.
Photos by Drew Moody
Ohio Valley University outscored the Pioneers 15-4 in the first four minutes of overtime to clinch the 100-96 victory Saturday night in Glenville.
Glenville drops to 6-9 in conference play; 8-14 overall.
A Michael Hurd steal and pass to Mykail Vibbert tied the score at 81 with 1:16 left.
The Pioneers committed 27 fouls during the game and shot a low 41-percent from 3-point land. Glenville's Tryvan Leech led the Pioneer attack with 27 points and 11 rebounds. Mykail Vibbert followed with 20. Chase Groves added 13; Allen Boyd had 12.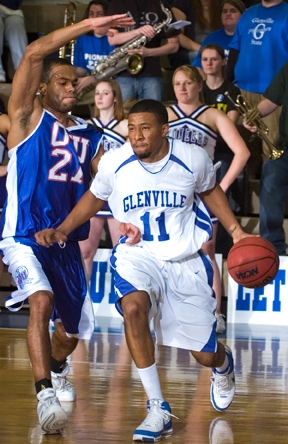 Tryvan Leech looks for two along the baseline.
Glenville travels to Charleston for a Monday night conference match, returning Thursday to face Concord. According to Glenville's website the Pioneers have just five more games to finish out the basketball season, two of which are home contests.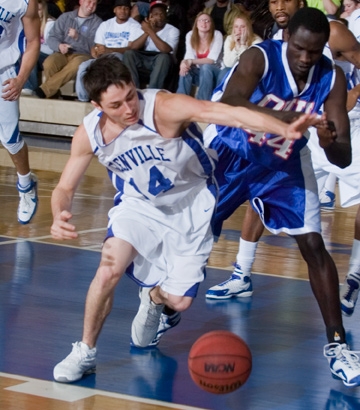 Chase Groves stuggles with an OVU player to control the ball.
Post-season play for both the Pioneers and Lady Pioneers will almost surely be limited to WVIAC championship play in Charleston unless one/both has an upset victory there.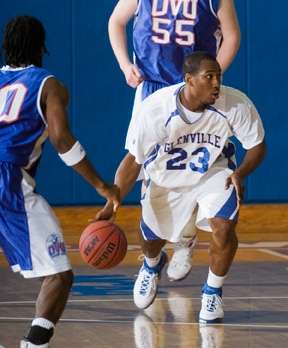 Allen Boyd was one of four GSC players in double-figures.