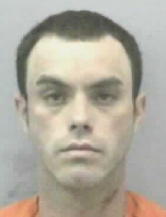 Another suspect that police believe was involved in the stabbing of a Wirt County man is now in jail.

Howard "Kenny" Murray, 31 (left) was arraigned in magistrate court this morning for crimes he allegedly committed before a stabbing incident in a trailer park near Elizabeth.

No one has actually been arrested for the murder of 33-year-old Brent Butler, whose address was listed as Creston. Butler's family is Calhoun connected.

Police say an anonymous tip lead authorities to the Pinewood Village in Parkersburg about 8 p.m. Thursday night, where they discovered Murray.

Murray is facing burglary charges in Wirt County and transferring stolen property in Wood County.

Police say Murray and another suspect, Oscar Gibson Jr., allegedly robbed Brent Butler.

Who actually stabbed Butler has not been established.

Murray and Gibson are in the North Central Regional jail.

Authorities say further charges are pending.

READ earlier Herald stories.