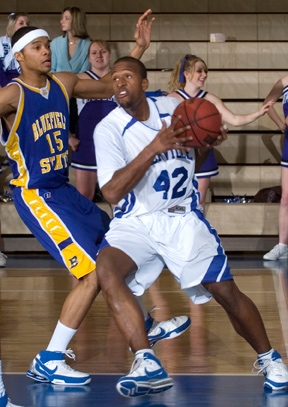 Anthony Kimble in the paint ready to shoot for two.
Photos by Drew Moody
A late game surge gave Glenville State College a victory over Bluefield 87-80.
Perhaps less than 300 fans were left to watch the victory; with the first wave exiting after the Lady Pioneer victory earlier, most of the rest left at half-time.
The Pioneers were down by eight at halftime.
Tryvan Leech led Pioneer scoring with 29. Mykail Vibbert followed with 23.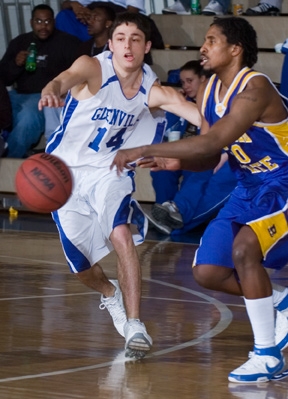 Chase Groves was honored just prior to the opening tip-off.
Just prior to the opening tip-off Pioneer Chase Groves was honored for surpassing the 1,000 mark during his Glenville State College career. He becomes only the 28th individual to accomplish that feat in the history of the Glenville State College men's program.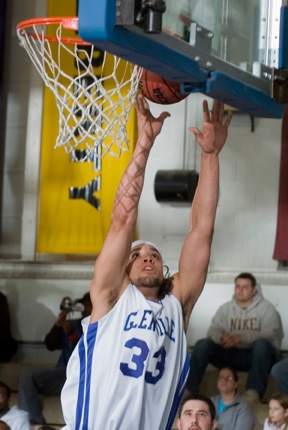 Mykail Vibbert scores underneath for two.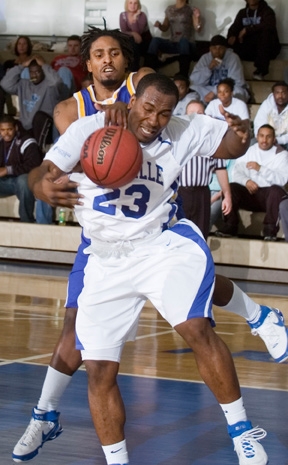 Bluefield player grabs Allen Boyd by the
shoulder to keep him from getting the ball.