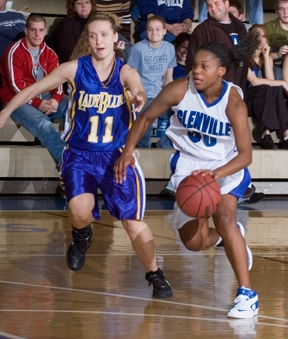 Donita Adams does it all for the Lady Pioneers
Photos by Drew Moody
In a game difficult to tell if Bluefield was 'hanging on like a bad cold' or the Lady Pioneers just couldn't manage to pull away, Glenville ended the game 24 ahead 84-60.
A full-court press caused the Lady Pioneers to stumble.
Bluefield wasn't at ease driving the ball home, frequently opting for wild 3-point attempts, hence their 5-15 overall record.
Donita Adams has become the Lady Pioneers one wild-card player. She can drive, shoot, rebound and nail 3-pointers as well.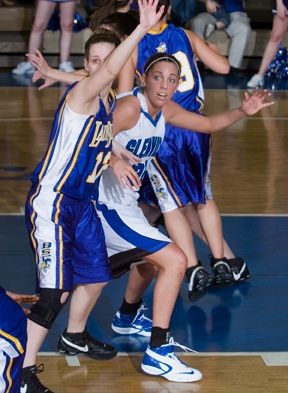 Kristina Kendrick looking for an inside pass
Karina Kendrick scored yet another double-double with 27 points and 10 rebounds. Donita Adams shot 9 for 13 from the field for a total of 21 points.
The Lady Pioneers face Ohio Valley Saturday night, and ask fans to THINK PINK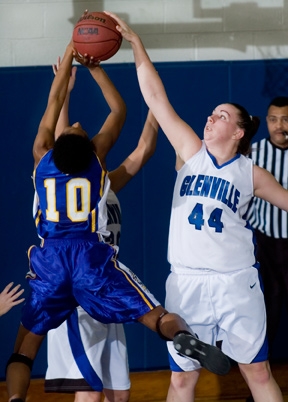 A Golden Surprise - clean block and stop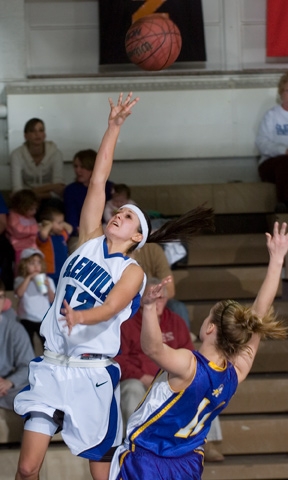 Mallory Menendez drives inside for two