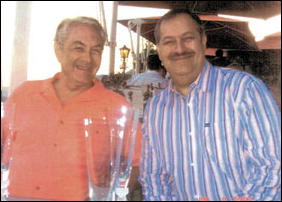 Chief Justice "Spike" Maynard (left) vacation-
ing with Massey CEO Don Blankenship in Monaco
The head of bankrupt Harman Mining hopes photos allegedly showing the chief justice of West Virginia's Supreme Court vacationing in Europe with Massey Energy's CEO Don Blankenship will help disqualify the justice from a $76.3 million case involving Massey.
The Supreme Court, led by Justice Maynard, reversed a Boone County court decision that declared Massey wrongfully hijacked a lucrative coal contract from Harman.
The reversal let Massey off the hook for the $76.3 million.
Hugh Caperton wants Chief Justice Elliott "Spike" Maynard recused from the case before the high court rehears it.
Caperton's lawyers filed two-dozen photos this week that they say depict Maynard vacationing with Blankenship in Monaco in 2006, questioning the relationship between the Chief Justice and the CEO.
In a press release Tuesday, Justice Maynard says his friendship with Massey Energy's Don Blankenship has never influenced any decision he has made for the court.
Charleston newspapers have reported Maynard dining with Blankenship in pricey restaurants when critical cases have been scheduled before the court.
Blankenship spent one to two million dollars helping elect Justice Brent Benjamin (Republican) to the high court.
Maynard and Blankenship say they met-up while on separate vacations.
But ethics experts say regardless of the circumstances, the European rendezvous calls into question Maynard's impartiality and fairness.