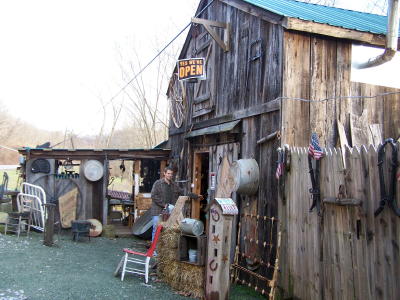 "We like to collect really unique items," says Jerry
Poling, whose store is located along Rt. 5, Creston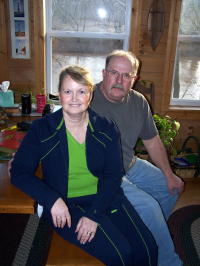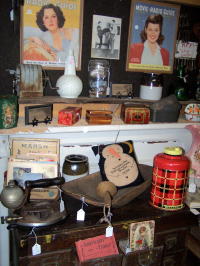 Jerry and Linda, who "love collecting," have a
great view of the Little Kanawha from their house
By Bob Weaver 2008
A new tourist stop and business has opened near Creston, not far from the nearby Burning Springs Oil and Gas Museum.
"This has been great for us, building on to an old fishing cabin and making our home, and starting Waters Edge," said Jerry Poling, speaking of he and wife Linda moving to Creston along the Little Kanawha after working for Pepsi for over 30 years.
"The river has a wonderful history, which we can reflect about from our back porch," said Jerry.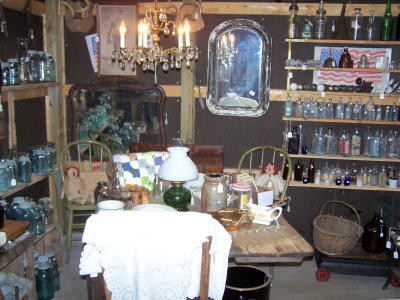 Barn is crammed with antiques and collectibles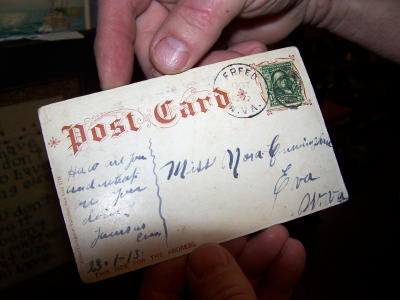 A WWI postcard from Brady Cunningham to home, postmarked Freed,
with actual residence at Eva, WV in the Leatherbark Ritchie area
The antique, furniture and collectible store was opened last year, and is chocked full of items representing early life in Appalachia, including items collected from Wirt, Calhoun and regional counties.
"The store has allowed us to meet and visit with folks traveling up and down Route 5," said Jerry, "always rediscovering our roots and extended family."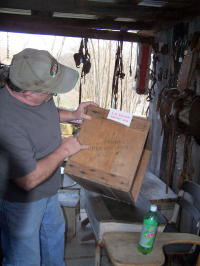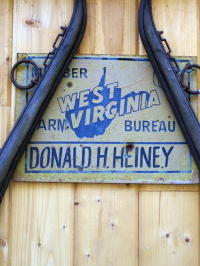 Box with address of C. W. Hylbert, merchant, Creston WV
and Farm Bureau sign Donald Heiney, former Calhoun Sheriff
Jerry is a descendant of the Polings, most coming from the greater Barbour County area in the 1800s.
"Linda and I have both been interested in antiques and collectibles. We just keep collecting, mostly because we have interest in the items. Now we're starting to part with some of them," said Jerry.
The store is located just west of the Creston bridge along Rt. 5, open Thursday 10-6, Friday and Saturday 8-6 and Sunday 1-6, closed Monday through Wednesday. Phone 304-275-1028.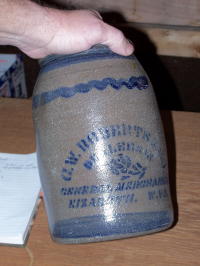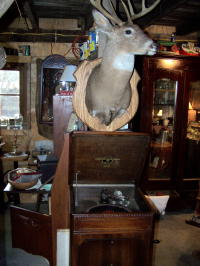 Crock from the original G. W. Roberts Store at
Elizabeth - deer mounting hangs above old phonograph