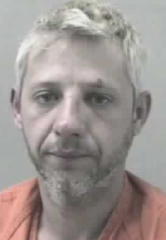 An alleged drunken driver took over the Clay County sheriff's cruiser Saturday afternoon, causing Sheriff Randy Holcomb to shoot at his own vehicle, blasting windows out and causing heavy damage.

David Lee Ramsey, 36, is in Central Regional Jail, charged with unlawful assault on an officer, 3rd offense DUI and grand larceny.

At least five officers responded to the incident, including the State Police, catching up with Ramsey on Holcomb Hill, a few miles from where he confiscated the cruiser.

The incident happened on Rt. 16 about 4 p.m., just south of the Town of Clay.

Sources at the scene indicated Sheriff Holcomb fired five or six shots at his cruiser, a new Tahoe.

A Clay resident, identified as David Pierson, reportedly picked-up Sheriff Holcomb, and the men followed Ramsey.

Police apprehended Ramsey and sent him for medical evaluation.

None of the police officers were injured.