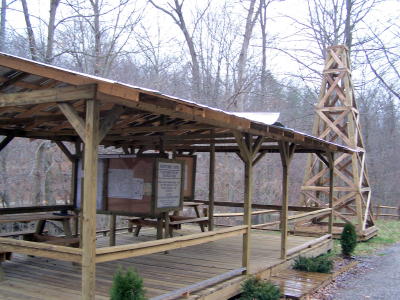 EARLY OIL PRODUCTION - Shelter, signage and derrick mark the return of the Village of California to West Virginia landscape on Rt. 47, thanks to the late David McKain
By Bob Weaver 2007
California, West Virginia is back on the map, a project completed in 2007.
The long faded village is located on the 180-mile Parkersburg-Staunton Turnpike (Route 47) 27 miles from Parkersburg in Wirt County, a short distance from Freeport.
David McKain's Oil, Gas and Civil War Heritage District has just developed the California site, one of several celebrating the birth of the nation's oil and gas industry as well as related Civil War activities.
The anchor for the district is the Oil and Gas Museum in Parkersburg.
California is where the nation's first commercial oilfield was developed in 1819, with the first drilled well in 1859.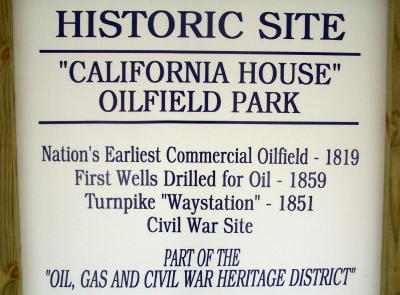 California was one of many way-stations in 1851 along the historic Staunton-Parkersburg Turnpike, and during the Civil War, both Union and Confederate forces traveled on the turnpike and frequented the California House and tavern.
The turnpike has received the designation as a National Scenic Byway by the Federal Government because of its transportation significance.
The Pike was initially authorized in 1826, and planned and laid out by the state engineer of Virginia, Claudius Crozet.
It was not actually built until the 1840's, with completion of the main roadway in 1848. This road, traveling over the high mountains near the birthplace of rivers was an engineering marvel, and opened up large sections of western Virginia to settlement and commerce.
The California site is the location of early trenches that were dug and from which oil was barreled and commercially distributed to Parkersburg and Marietta, Ohio from the early 1800s.
The site is also known for a famous water well, which produced marketable oil in the early 1850s. It was sold to the famous Samuel Kier, developer of the Kerosene lamp in early August, 1859.
A well was being commercially drilled for oil in the spring and summer of 1859 by Charles Shattuck and J. T. Johnston, at the same time as the famous Drake well was being drilled in Pennsylvania.
California became a significant oilfield in the 1860s and 1870s and the area still contains numerous producing oil and gas wells.
The Oil and Gas Museum currently owns five acres at the site. The original foundation stones of the California House, water well and barn are still located on the museum property.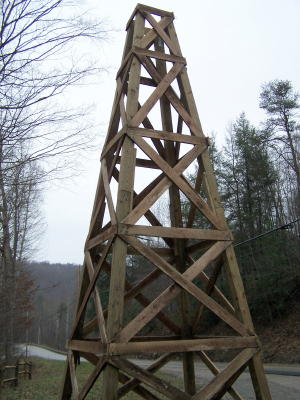 Oil derrick replica along Rt. 47, Staunton-
Parkersburg Turnpike - site of California House
Other projects in the district already developed or planned, include:
- Burning Springs, seven miles from Elizabeth in Wirt County, the park is already in place.
- Palestine Lock and Dam site, Wirt County.
- Big Bend Rebel Civil War site, Calhoun County.
- Oil Rock, off Standing Stone Creek in Wirt County, a post Civil War boomtown.
- Ritchie Mines, north of McFarlan in Ritchie County.
- Petroleum, in Ritchie County.
- Volcano, in Wood County, 20 miles from Parkersburg on U. S. Rt 50.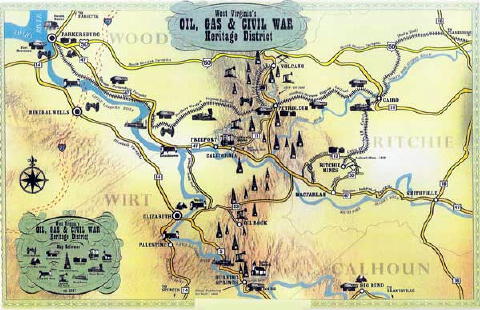 Oil, Gas, Civil War Heritage District from Oil and Gas Museum, Parkersburg. Courtesy of www.little-mountain.com/oilandgasmuseum