Article and photos
submitted by Tammey Webb

Students and staff at Arnoldsburg Elementary School celebrated Christmas with their annual Christmas Program on December 19. A wonderful time was had by all.

The Arnoldsburg Singers opened the show with a song, sporting red Santa hats. All decked out in their poodle skirts and white t-shirts the 3rd and 4th grades presented "A 50's Christmas" with Christmas songs from the fifties.

The 2nd grade under the direction of Mrs. Hicks and Mrs. Jarrell sang Snowflakes on My Nose and Frosty's Back.

Mrs. Chenoweth and Mr. Thomas' 1st grade classes performed the songs Jingle Bell Rock and Rise Up, Shepherd and Follow.

Mrs. Benson's Kindergarten class sang I'm Gettin' Nuttin' for Christmas.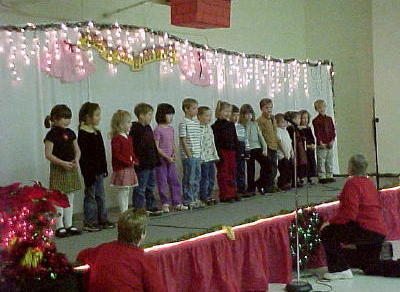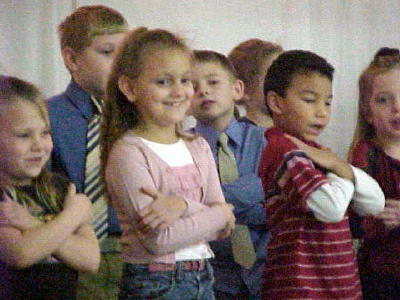 Mrs. Prusack and Mrs. Marks' Kindergarten recited the ABC's of Christmas and sang We Wish You a Merry Christmas.
The Preschool and Head Start presented their program on Tuesday, December 18. Preschool class acted out the book "Room for One More" and the Head Start sang a song.
Merry Christmas from all of the staff, students and the PTO at Arnoldsburg Elementary from our house to yours.