By Bob Weaver

How many times have you read or seen a TV ad that West Virginia is "tort hell," or a judicial hellhole, leading the nation in frivolous lawsuits?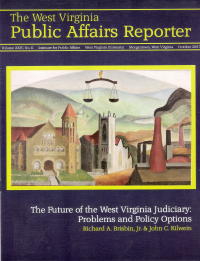 A scholarly study of litigation in WV by professors Richard Brisbin and John Kilwein shows that the number of civil cases filed dropped by nearly 10 percent between 1984 and 2005.
National statistics are also suggesting that "tort" filings are at a 10-year low.
According to Brisbin and Kilwein's research, West Virginia ranks 46th, quite favorably among the states for cases filed per-capita.
Three-quarters of West Virginia's circuit judges dispute the business community's complaints that the state is experiencing an "explosion of frivolous litigation," according to the academic report.
The American Tort Reform Association released its 2007 list of "Judicial Hellholes" this week, one of many groups citing WV as near the worst in the nation.
The US Chamber of Commerce has spent one-and-one-half million dollars on an ad campaign, citing WV as the worst state in the USA, desperately needing reform.
The labeling of WV certainly has been linked to repeating something often, keeping the message simple and making the message burn -"West Virginia is tort hell, leading the nation in frivolous lawsuits."
George Orwell said Big Brother (or corporations) are slick enough to make people believe that "War is peace. Freedom is slavery. Ignorance is strength."
Orwell also said that during times of universal deceit, telling the truth becomes a revolutionary act.
Recently, Forbes, the astute business magazine, says WV is the least green and worst environmentally sound state in the union at No. 50, surely indicating somebody is having their way with us.
Frequent claims against the state have been leveled by coal, gas and insurance corporations, saying it is the worst place in America to do business.
Chesapeake Energy recently threatened to leave the state after a Roane County jury found them guilty of taking advantage of royalty holders, awarding the holders well over $400 million.
The WVU researchers say that beyond a good deal of sound and fury, they find few facts to support the notion that the Mountain State is a "judicial hellhole."
The study says the annual statewide personal-liability caseload has declined, suggesting that the courts are not being overwhelmed by tort cases.
According to National Center for State Courts statistics, the number of tort cases peaked seven years ago, rising from about 1,000 in 1997 to more than 2,600 in 2000, then dropping to fewer than 700 in both 2002 and 2003.
The authors call into question the methods of various studies that have portrayed the state's judicial system in a negative light.
"Business interest groups and the media produce stories about abusive litigation that neglect important contradictory information, rely on erroneous information, make assumptions based on inaccurate anecdotes, or use inadequate evidence and slogans generated by the 'research' arms of interest groups who neglect normal standards and practices of empirical social scientific inquiry," the study states.
"Unfortunately, the critics extrapolate their conclusions that these suits deter economic growth in the state from incomplete data and indirect measurement and analysis."
The authors could not find an independent scholarly analysis of court damage awards and insurance costs that compares West Virginia to other states.
A giant billboard was erected near Charleston that depicts wads of cash stuffed into a man's mouth with the words, "Please Don't Feed the Trial Lawyers."
The US Chamber blitzed newspapers and radio stations in the state with the "tort hell" message.
Bill Straub Jr., a State Farm Insurance agent in Beckley, said "It would not be long before the doors of that business would close," unless there was reform.
"Currently, it is not profitable to write policies in West Virginia," he said.
Teresa Toriseva, president of the West Virginia Association for Justice, called the report "nothing more than political propaganda funded by billion-dollar corporate special-interest groups who are trying to gain total immunity in the court system when they break the law, and it's all done to increase their profits at the expense of consumers, workers, and all West Virginia citizens."
Toriseva said, "The study is phony and has been repeatedly discredited but they continue to put their propaganda out there in an effort to persuade people that there's something wrong with our court system.
Massey CEO Don Blankenship has spent several million dollars placing a new judge on the Supreme Court and defeating other state officials for making it hard on business.