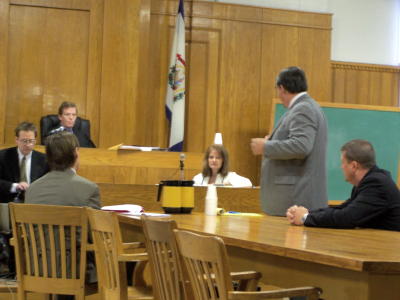 Judge Thomas Evans III listens to defense attorney John
Teare, standing, with former officer Bandy, far right
By Bob Weaver
A multiple-count criminal indictment against former Calhoun Chief Deputy Ronald Gene Bandy, Jr. was dismissed yesterday by Judge Thomas Evans III, without prejudice.
"Without prejudice" means that the case could be brought back.
Special prosecutor Gerry Hough said there was insufficient evidence related to Bandy having criminal intent.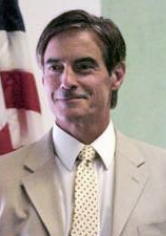 Hough (pictured left) has been proposing various legal mechanisms since last March to divert or drop the case.
"I have a big problem over the bringing of this case," said Judge Evans, who has either been rejecting or continuing to review those earlier motions.
"The prosecuting attorney's case is built on conjecture and suspicion, not evidence," Evans said, although "The State Police did an excellent job investigating the matter."
Defense attorney John Teare, repeated a statement he made earlier this year, "This case should never have been brought."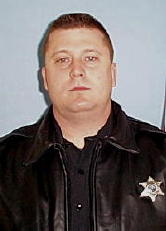 Bandy (pictured left-file photo) had been indicted on eight counts by a Calhoun grand jury following an investigation by the WV State Police: one count of grand larceny, three counts of burglary, three counts of conspiracy, all felonies, and one misdemeanor count for destruction of property.
The case was related to the alleged taking of property belonging to an elderly Big Springs couple who were unable to take care of themselves, having been placed in Department of Human Services custody.
Hough told the court he had difficulty understanding the role of sheriff's being the conservator of estates.
"The defendant (Bandy) brought the property to the sheriff and he declined to accept it," said Hough.
Evans indicated that act was "extremely dangerous" to the state's case. "Thieves do not take stolen property to the Sheriff and the DHHR for safe keeping," he said.
Evans continued, saying "The case troubles me...This is a public corruption case that affects the public's confidence."
Evans said he had problems with some of the testimony, citing the accessing of a safe deposit box at the Calhoun Bank by Bandy's former girlfriend DHHR employee April McCroskey, saying it "raised suspicion," but "suspicion is not proof."
McCroskey, who was initially indicted on the same charges as Bandy, was found guilty of trespassing, which had a $100 fine and court costs.
"Mr. Hough has done the right thing" said Evans, by seeking dismissal.