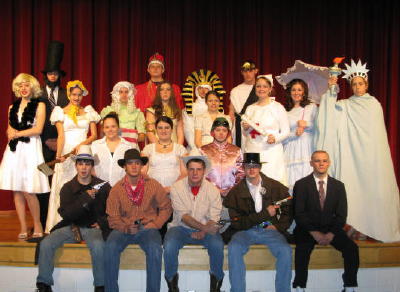 The CHS theatre class performed "Stacks of Wax" at the school's Open House last week and on Friday for the middle school students.
Seventeen historical figures come to life in a wax museum, including characters John Wayne, King Tut, Marilyn Monroe, Scarlett O'Hara, Abe Lincoln, JFK, Jesse James, Wyatt Earp, Doc Holliday, Caesar, King Henry, Cleopatra, Florence Nightingale, Betsy Ross, Carrie Nation, Statue of Liberty, and Amelia Earhart.
The student actors were Gary May, Chance Hardway, Matt Houchin, Allen Carpenter, Tim Holbert, Jessica Cosgrove, Nick Whytsell, Kayla Clark, Melissa Jarvis, Justin Bailey, Michaela Yoak, Derek Brannon, Kayla Miller, John Sampson, Briana Blankenship, Amie Carilli, Carrie Graffius, Kayla Barr and Danielle Parsons.
Courtesy of Calhoun High School