Submitted by Annette Barnette
Public Relations & Marketing Director
Glenville State College

Glenville, WV - Glenville State College President Dr. Peter Barr has named longtime athletic department coach and faculty member Janet Bailey Athletic Director for the school.

Dr. Barr said, "I am pleased she has agreed to serve in this capacity and accept these additional responsibilities. Janet is a natural fit for this position."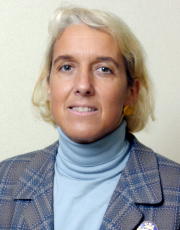 Bailey (pictured left) said, "I am humbled and honored to serve a staff of hard working coaches and tremendous student athletes. I want every Glenville State College student athlete to have a positive experience both in the classroom and in the competition venues. I look forward to serving on NCAA committees that will provide opportunities to stay current on the issues that affect our teams on the conference and national levels."
Dr. Barr also announced GSC's Head Track and Field Coach Cam Perry will help Bailey by filling the role of Assistant Athletic Director. Perry said, "I feel privileged to accept this position and have the ability to work for Coach Bailey. I believe that we will make a positive impact for the future of Pioneer Athletics. I feel honored to get the opportunity to continue the Pioneer tradition at my alma mater."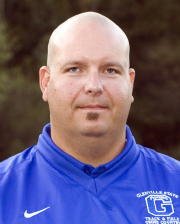 Bailey said, "Coach Perry (left) will be tremendous in the position of Assistant Athletic Director. His typical day begins at 6:30 a.m. in the weight room, and he continues to work with all student athletes throughout the day. He is a team player and his role to the department will be vital."
Dr. Barr says promoting Bailey to the Athletic Director position will allow former Interim Athletic Director Dennis Fitzpatrick to concentrate his talents on the GSC women's basketball team as the Lady Pioneers Head Coach.
Bailey, a 20-year member of the Glenville State College faculty, received the 2007 GSC Faculty Award of Excellence. From 1988 through 1998, she was head athletic trainer for nine sports and Women's Track and Field Coach from 1988 until 1996. Bailey was Assistant Athletic Director from 1994 until 1995. Currently, she is an Associate Professor of Education. She has served on a national NCAA committee, Competitive Safeguards and Medical Ethics, since April 2006.
In January 2005, she attended the NCAA National Convention to represent Glenville State College as Senior Woman Administrator and in 2006 as a voting delegate.
Bailey is faculty advisor to the Student Athlete Advisory Committee and is a huddle leader for the Fellowship of Christian Athletes on campus and statewide.
As an athletic trainer, Bailey worked as a volunteer for the 1996 Summer Olympic Games. In 1997, she worked in Colorado Springs, Colorado at the Olympic Training Center. While at the OTC, she became involved in drug testing for the United States Olympic Committee and now works for the United States Anti-doping Agency, testing Olympic athletes as well as athletes for the Goodwill and University Games.
In 1979, Bailey graduated with a degree in physical education, health and driver's education K-12 and library science K-12. As a student athlete, she was a member of the Women's Basketball Team and the Women's Track and Field Team. Bailey completed a Master's Degree in 1983 from West Virginia University in Physical Education with emphasis in Sports Medicine. Bailey resides in Glenville with her husband Thomas.
Perry enters his second year at the reins of the Pioneer Track Teams. The 1998 Glenville State College graduate played on the 1995, 1996, 1997 conference championship teams as well as the 1997 national playoff team. As a senior, Perry was voted to the WVIAC All-Conference First team. Prior to joining the Pioneer football coaching staff, Perry was the offensive line coach as well as the strength and conditioning coach at Gilmer County High School. He is a graduate of Herbert Hoover High School in Clendenin, West Virginia and resides in Glenville with his wife, Amber.