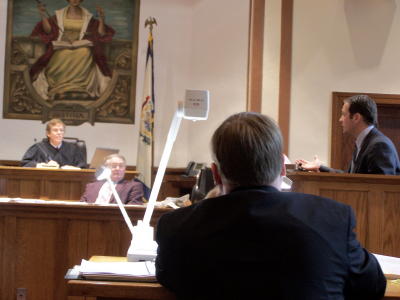 Prosecutor Matt Minney (front) listens to exchange between Judge Thomas Evans III (left) and Rush defense attorney Rocky Holmes (right) regarding Cpl. Starcher's lunchtime conversation with jurors
By Bob Weaver
Calhoun Prosecutor Matt Minney was completing his case against accused murderer Ronnie Allen Rush yesterday in Ripley, when Rush's attorneys moved for a mistrial.
Attorneys Teresa Monk and Rocky Holmes said Cpl. Doug Starcher of the WV State Police talked with at least four jurors during a lunch break, and also conversed with members of the Rush family.
Monk told Judge Evans "There is more than the appearance of impropriety...this jury is now tainted."
Judge Evans stopped the trial, and interviewed the principal parties involved, including at least four of the jurors who conversed with the officer during the break.
Cpl. Starcher was placed on the witness stand, testifying the conversation was "small talk" about hunting and WVU football, acknowledging he knew the individuals were jurors.
Starcher said he was asked a question regarding another issue by one or more members of the Rush family.
The jurors told the court they talked with Starcher about football and deer hunting, although two of the jurors said they were part of a conversation regarding another state policeman who was an acquaintance of Cpl. Starcher, a friend of one of the jurors.
The four jurors were interviewed independently from their fellow jurors, saying some of the lunch conversation lasted about 15 minutes.
Judge Evans told the court "This is a high stakes trial, with concerns about even the look of impropriety," saying it is inappropriate for a witness (Starcher) to talk with jurors.
"Cpl. Starcher is an important witness for the state," Evans said, expressing concern about the conversation between Starcher and a juror regarding a mutual acquaintance.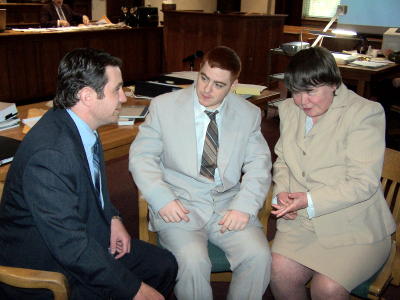 Defense attorneys Holmes (left) and Teresa
Monk (right) confer with client Ronnie Allen Rush
Prosecutor Minney said "No line was crossed to indicate the need for a re-trial."
Defense attorney Monk told the court that the rules were not being followed, with a witness (Starcher) and jurors communicating, indicating that if she and co-counsel Holmes had commiserated with the jurors, a mistrial would likely be declared.
Judge Evans denied the motion for a mistrial, saying he did not hear any testimony regarding a discussion of matters related to the case.
"We're all human beings. There are no perfect trials," he said.
Rush, now 21, is being re-tried for the double murder of 69-year-old Warden Groves and 60-year-old Mary Hicks, while they slept in their Sand Ridge community home in May 2003. He was 16 at the time.
The re-trial was ordered by the WV Supreme Court after the WV State Police bungled the case. Rush's public defenders Monk and Holmes appealed the case. Judge Thomas Evans III ordered a change of venue to Jackson County.
The couple was shot to death at close range while they were sleeping in separate beds. Rush had been living in their household. A considerable amount of money was discovered missing, some of which was discovered in a truck Rush was allegedly driving and later, hidden in a trash can in a house occupied by Rush's parents.
Prosecutor Minney built a case against Rush for what he says is numerous inconsistencies and changes in his account of what happened, suggesting that jurors need to "follow the money."
The trial is continuing today with closing arguments and could go to jury by afternoon.
Rush is being re-tried on the same charges he was convicted of by a Calhoun jury in 2004. Those charges include murder, robbery, burglary and conspiracy.
An effort to reach a plea agreement in the case against Rush failed earlier this year.