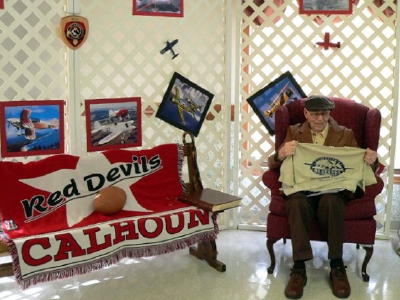 Jim Wallace opening gifts at his 90th birthday party
Submitted by Anita Vannoy and Loretta Siers
Jim Wallace of Grantsville was honored on his 90th birthday at a party, held at the Grantsville Senior Center, Sunday.
Many family and friends joined Jim for the event. He was proud to receive 103 birthday cards and three cakes.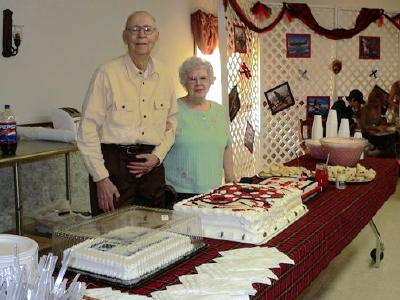 Jim and Gerry with his 3 birthday cakes
Wallace was honored at the Calhoun Red Devil's homecoming game Friday, October 19, for having been an outstanding team manager for many years. Gerry, his wife was there to share this time with him, along with some of the coaches and players of the team over the past years.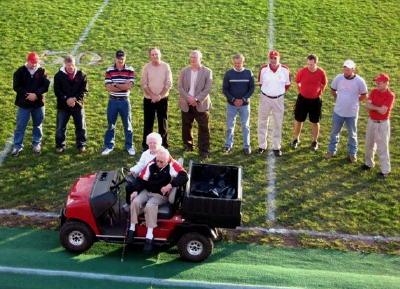 Jim and Gerry honored at Calhoun High's Homecoming
Born in Scotland, he came to America with his parents as a young child. His father worked in a steel mill in Lorrain, Ohio.
As a pilot, Jim flew for the Civil Air Patrol during WWII, and later owned his own Air Coupe.
Jim and his wife, the former Gerry Fowler, of Calhoun County, were married in 1956. He spent 40 years working as a machinist at US Steel. Retiring in 1981, the couple returned to Calhoun.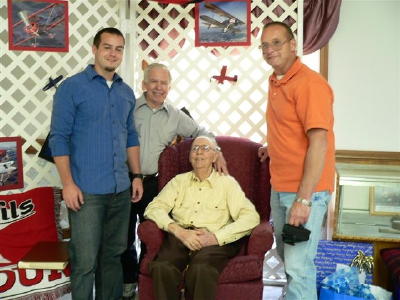 Jim with his nephew, David Wallace (R) and great nephew,
Jeremy Wallace (L) and brother-in-law, Foster Fowler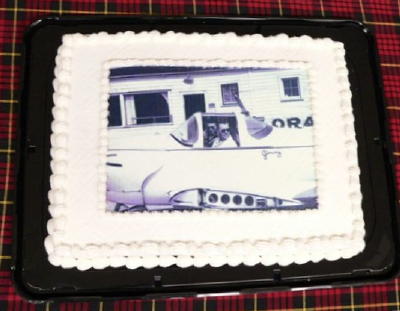 One of three cakes featured Jim in his Air Coupe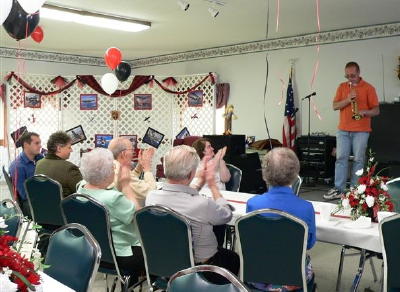 A highlight of the afternoon, was trumpet music
played by Jim's nephew, David Wallace of Kokomo, Indiana