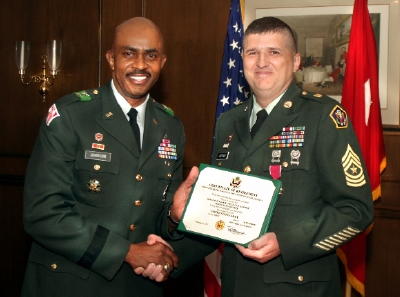 Major General Ronald L. Johnson (L) with Sergeant Major Arthur
Sergeant Major William R. Arthur retired on August 31, 2007, after 26 years of service as an Army Engineer culminating with his assignment as Sergeant Major for the Office of the Chief of Engineers in the Pentagon.
SGM Arthur was born and raised in Calhoun County, attending school in Brooksville and at Calhoun County High School. He is the son of the late Gilbert E. Arthur and the grandson of the late John and Gaye Arthur who were longtime residents of Creston, WV. He is a graduate of Wirt County High School with the class of 1978.
On June 11th, the Deputy Chief of Engineers, Major General Ronald L. Johnson hosted the retirement ceremony and in his remarks highlighted SGM Arthur's exemplary career.
Distinguished guests included the Assistant Secretary of the Army for Civil Works, John Woodley, family and friends.
SGM Arthur enlisted in the United States Army in July 1981 and attended Basic Training and Engineer Advanced Individual Training at Fort Leonard Wood, Missouri.
He served as the Power Station Sergeant for Team 8 of the 249th Engineer Battalion in Heidelberg, Germany for three and a half years, which included deployment to Kuwait in support of Operation Enduring Freedom and Operation Iraqi Freedom. SGM Arthur was medically evacuated for critical injuries sustained during this assignment.
Arthur held a variety of leadership, instructor, and staff positions throughout his career to include, First Sergeant of the 55th Engineer Company (MGB), Fort Riley Kansas from Feb 1999 to Dec 2000. Other duty positions have included Power Station Sergeant, Platoon Sergeant, Section Sergeant, Squad Leader, Operations Sergeant, NCOES Evaluator, Total Army School System Evaluator, Senior Instructor, Advanced Noncommissioned Officer's Course Instructor, and Heavy Equipment Operator.
SGM Arthur completed assignments with the 15th Engineer Battalion, Fort Lewis; the 802nd Engineer Battalion, Korea; the 34th Engineer Battalion, Fort Riley, KS; the 503rd Engineer Company (CSE); Stuttgart/Hohenfels Germany, Libby Noncommissioned Officer Academy, Fort Leonard Wood, MO; Garrison Command, Fort Leonard Wood, MO; the 55th Engineer Company (MGB), Fort Riley, KS, the 249th Engineer Battalion (Prime Power), Heidelberg, Germany. Finally, on June 20th, 2004; he assumed duties as Sergeant Major, Office Chief of Engineers at the Pentagon.
Arthur's military education and honors include the Primary Leadership Course, Commandant's List, Honor Graduate; the Basic Noncommissioned Officers Course; Commandant's List, the Honor Graduate, Commandant's Award; the Advanced Noncommissioned Officers Course; Commandant's List, Distinguished Graduate, the Honor Graduate, NCOA Initiative Award; and the Air Force Senior Academy, Class 04-E. SGM Arthur has also pursued his civilian education earning an Associates Degree from Central Texas College and is nearing completion of a Bachelors Degree in Business Administration.
His awards and decorations include the Meritorious Service Medal (third award), Army Commendation Medal (fourth Award), Joint Meritorious Unit Award, Army Achievement Medal (ninth award), Good Conduct Medal (eighth award), National Defense Service Medal with Bronze star device, Korean Defense Service Medal, Humanitarian Service Medal, Military Outstanding Volunteer Service Medal, Global War on Terrorism Expeditionary Medal, Global War on Terrorism Service Medal , the Driver's Badge (S) and the Department of the Army Staff Badge. He is also a recipient of the annual Society of Military Engineer's Sturgis Medal for 1999; an award presented to the Engineer Noncommissioned Officer of the Year. SGM Arthur also holds the Army Engineer Association's prestigious Bronze DeFleury Medal, the Ordnance Corps' Samuel Sharpe Medal and he is certified by the Engineer School as a Master Instructor and Evaluator.
In addition to receiving the Legion of Merit; he was also presented an American Flag that was flown over the U.S. Capital at the request of WV Senator, Robert Byrd and many additional tokens of appreciation.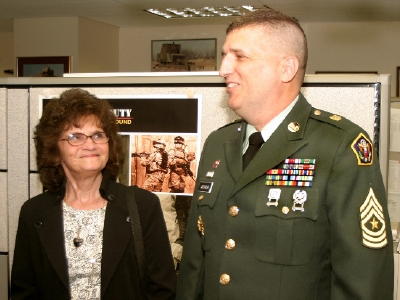 JoAnne Frances with son, Sergeant Major Bill Arthur
Family members attending the ceremony included his wife, Marie R. Arthur who is currently deployed to Kuwait for 1 year, daughter Catherine accompanied by her boyfriend, Mike Ewing of Denver, Colorado, his son Bob, his mother, JoAnne Frances and sister Tammy Strong both of Elizabeth, WV, sister Robin Balderson of Minerals Wells, nephew, Jamie and Jessica Strong of Glen Daniel WV, and his father-in-law, Roderick Hall of Aberdeen South Dakota.
In his remarks, Bill expressed appreciation and gratitude for the lifetime of support and encouragement he received from those in attendance as well as those that were not able to make it. Mr. Arthur has accepted a Civilian position with the Department of the Army assigned as the Executive Officer to the Office of the Chief of Engineers, Pentagon. The Arthurs reside in the Eastern Panhandle community of Shenandoah Junction.