Submitted by Bob Edwards
Public Relations Dept. Asst.
Glenville State College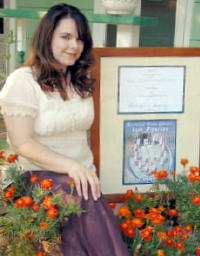 Glenville, WV - Congratulations are in order for Glenville State College Senior, Heather Phares (left) who recently received the American Graphic Design Award, for her design of the 2006-2007 GSC Lady Pioneer Basketball Media Guide.
The three-decade-old competition is presented by Graphic Design USA and sponsored exclusively by Adobe Systems Inc. The competition is open to advertising agencies, graphic design firms, corporate, institutional, and in-house publishing departments, and more. It honors outstanding new work including, print and collateral, advertising and sales promotions, packaging and point-of purchase, internet and interactive design, broadcast and motion graphics, and corporate identity and logos.
Phares' work was selected to receive the award from over ten thousand entries, which included graphic designs from such well-known companies as Disney, MGM, and Verizon. "Winning this award means that my work measures up with some of the best graphic designers in the nation. It tells me that I am doing a good job," said Phares.
Winners receive an embossed certificate of excellence and become eligible for reproduction in Graphic Design USA's Awards Annual, a 300-page edition published in December. Phares has been working on the GSC football and basketball media guides for the last four years with the GSC Athletic and Public Relations Departments.
Phares is scheduled to graduate from Glenville State College in December with degrees in Business Management, Early Elementary Education (PreK-K), Elementary Education (K-6), and Multi-categorical Special Education (K-Adult). She is currently completing her student teaching at Glenville Elementary School and Gilmer County High School.
Heather is not certain what she wants to do careerwise; she loves teaching and working with children, but also truly enjoys graphic design. Phares picked up her expertise as a graphic designer from her father, Jim Bucheimer, who owns Krafty Kat Designs, a graphic design business in Lewis County. Heather lives in Glenville, West Virginia with her husband Jason, who also dabbles in graphic design. He is an Information and Technology Consultant in the GSC IT Department.