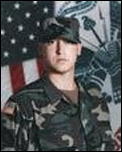 Donations are being accepted for the family of Spec. Jason Marchand, 26, of Doddridge County, who died October 5, 2007 in Operation Iraqi Freedom.

Spec. Marchand was killed when a makeshift bomb detonated near his unit during combat operations in Baghdad.

He was a member of the 3rd Squadron, 2nd Stryker Cavalry Regiment unit based in Vilseck, Germany.

All donations will be given to the family to help with funeral and associated costs in their time of need.

Donations may be sent to:

Rhonda Travis
Rt. 2, Box 338 A
Salem, WV 26426

Or

Harry Beall
PO Box 737
Grantsville, WV 26147

Thank you in advance for your generosity.