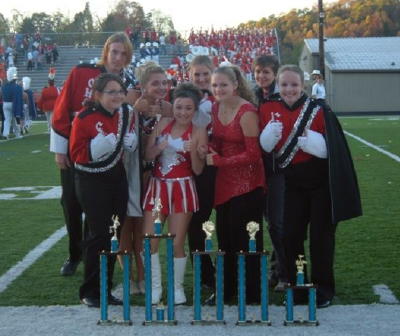 Front L-R Beth Richards, Sarah Moore, Emily Thomas and Brianna Blankenship, Exchange student from Germany, Olaf; Ashley Conley, Lindsay Turner, and Exchange student from Germany, Elisabeth
(Photo by Earlene Thomas)
Submitted by Patty Haught
The Calhoun County Middle-High School Band spent another beautiful Saturday afternoon this weekend participating in the annual VikingFest Band Competition held in Ripley.
The Band competed in Class C and brought home several awards, including, 3rd place field commander, Emily Thomas, 3rd place feature twirler, Ashley Conley, 3rd place percussion and 5th place band.
The majorettes placed second overall.